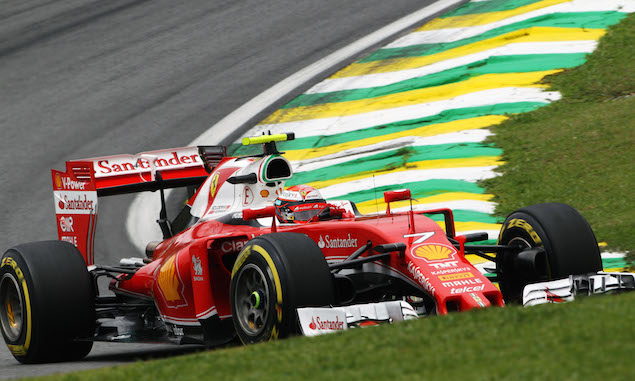 Kimi Raikkonen says his final lap in qualifying was "pretty average" despite taking third on the grid for the Brazilian Grand Prix.
The Finn secured his best grid slot at Interlagos since 2008 by beating the Red Bulls and team-mate Sebastian Vettel to third place. Despite being best of the rest behind the two Mercedes drivers - and leading a group of four cars covered by 0.136s - Raikkonen said he wasn't overly happy with his final attempt in Q3.
"I struggled the whole qualifying, in a few places, a few corners and in the middle sector," Raikkonen said. "To be honest the last lap was pretty average in my view, but obviously it was enough to be in third place. The Mercedes seems to be a bit too far.
"I struggled in the first two corners with tyre warm-up a bit and even the middle I wasn't very happy but I don't mind, it was good enough for this and we will see what we can do."
Asked why he thinks he was able to get the better of Red Bull at Interlagos, Raikkonen says the battle between the two teams is decided by fine margins.
"It's been very close. Most of the year we were close and obviously sometimes we were behind and sometimes in front but I think we did reasonable races, very good job as a team. We improved in certain areas and tried new things and learned some positive things.
"I think as a team we work very well ... Hopefully we can do a good, strong race tomorrow."
Silbermann says ... I'm going AWOL
Romain Grosjean column: Time for Haas to raise its game
FEATURE: What Rosberg need to do to win the title in Brazil
INTERVIEW: Fernando Alonso: Why F1 is no longer just for heroes
Keep up to date with all the F1 news via Facebook and Twitter