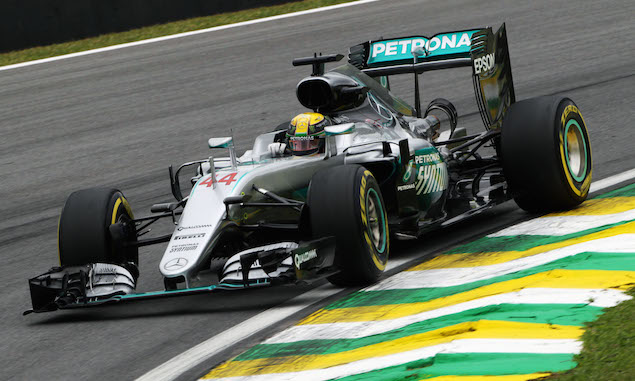 Lewis Hamilton secured the 60th pole position of his career by beating team-mate Nico Rosberg in a close fight at the Brazilian Grand Prix.
Hamilton seized the initiative on the first runs in Q3, becoming the first driver to drop into the 1m10s this weekend as he led Rosberg, and then lowered his time on his final lap to a 1:10.736. Rosberg responded with the fastest first sector and a good middle sector, but eventually fell 0.102s short and will start from second place as he looks to win the drivers' championship at Interlagos.
Rosberg will be champion with victory, but a Hamilton win will ensure the championship will be decided at the final race of the season in Abu Dhabi.
Kimi Raikkonen produced an impressive final lap to take third on the grid ahead of Max Verstappen. It was a very close fight between Ferrari and Red Bull, with Sebastian Vettel fight and Daniel Ricciardo sixth as all four cars were covered by 0.136s.
Romain Grosjean only completed one run in Q3 - and went early - but secured seventh place ahead of the Force India pair of Nico Hulkenberg and Sergio Perez, with Fernando Alonso set to start from tenth place.
The home fans were left disappointed as Felipe Massa was a casualty of Q2, with the Brazilian dropping out in 13th place. Massa was joined by team-mate Valtteri Bottas who was bumped down to 11th by an impressive late lap from Grosjean, while Alonso delivered an excellent time to end the second session in seventh place.
Esteban Gutierrez split the two Williams drivers in twelfth, while Daniil Kvyat, Carlos Sainz and Jolyon Palmer also dropped out in Q2.
Q1 started with a 70% risk of rain, leading to a number of cars looking to get in early laps in case conditions changed. The Mercedes pair set the pace immediately, with Hamilton benefitting from a tow from a Toro Rosso, but the rain held off which resulting in a busy end to the session for those under threat of dropping out.
Jenson Button was the biggest name to be eliminated - for the third time in four races in Q1 - as he locked up at Turn 1 on his final attempt and complained about the car's handling. Kevin Magnussen also failed while team-mate Jolyon Palmer progressed despite being impeded by Felipe Nasr's Sauber at Turn 4.
The two Saubers propped up the times, with Marcus Ericsson just ahead of Nasr, while the two Manors also dropped out as Pascal Wehrlein beat team-mate Esteban Ocon by just 0.005s. Ocon complained Wehrlein "blocked me massively", on his final run, adding: "This is not cool".
Silbermann says ... I'm going AWOL
Romain Grosjean column: Time for Haas to raise its game
FEATURE: What Rosberg need to do to win the title in Brazil
INTERVIEW: Fernando Alonso: Why F1 is no longer just for heroes
Keep up to date with all the F1 news via Facebook and Twitter
| Pos | Driver | Team | Q1 | Q2 | Q3 |
| --- | --- | --- | --- | --- | --- |
| 01 | Lewis Hamilton | Mercedes | 1:11.511 | 1:11.238 | 1:10.736 |
| 02 | Nico Rosberg | Mercedes | 1:11.815 | 1:11.373 | 1:10.838 |
| 03 | Kimi Raikkonen | Ferrari | 1:12.100 | 1:12.301 | 1:11.404 |
| 04 | Max Verstappen | Red Bull | 1:11.957 | 1:11.834 | 1:11.485 |
| 05 | Sebastian Vettel | Ferrari | 1:12.159 | 1:12.010 | 1:11.495 |
| 06 | Daniel Ricciardo | Red Bull | 1:12.409 | 1:12.047 | 1:11.540 |
| 07 | Romain Grosjean | Haas | 1:12.893 | 1:12.343 | 1:11.937 |
| 08 | Nico Hulkenberg | Force India | 1:12.428 | 1:12.360 | 1:12.104 |
| 09 | Sergio Perez | Force India | 1:12.684 | 1:12.331 | 1:12.165 |
| 10 | Fernando Alonso | McLaren | 1:12.700 | 1:12.312 | 1:12.266 |
| 11 | Valtteri Bottas | Williams | 1:12.680 | 1:12.420 | |
| 12 | Esteban Gutierrez | Haas | 1:13.052 | 1:12.431 | |
| 13 | Felipe Massa | Williams | 1:12.432 | 1:12.521 | |
| 14 | Daniil Kvyat | Toro Rosso | 1:13.071 | 1:12.726 | |
| 15 | Carlos Sainz | Toro Rosso | 1:12.950 | 1:12.920 | |
| 16 | Jolyon Palmer | Renault | 1:13.259 | 1:13.258 | |
| 17 | Jenson Button | McLaren | 1:13.276 | | |
| 18 | Kevin Magnussen | Renault | 1:13.410 | | |
| 19 | Pascal Wehrlein | Manor | 1:13.427 | | |
| 20 | Esteban Ocon | Manor | 1:13.432 | | |
| 21 | Marcus Ericsson | Sauber | 1:13.623 | | |
| 22 | Felipe Nasr | Sauber | 1:13.681 | | |