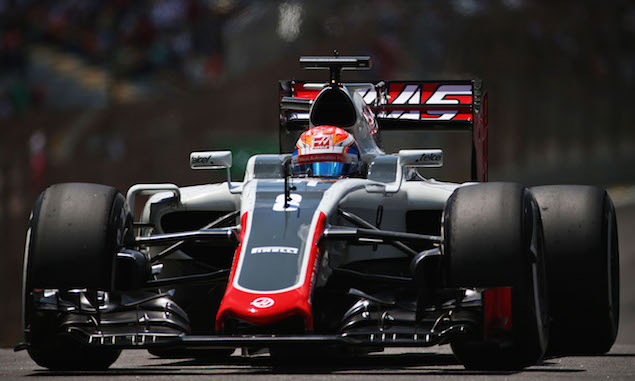 Romain Grosjean says the next targets for Haas are to score a podium and a victory after a successful debut season in F1.
Haas deferred its entry to the start of this season to ensure it was as prepared as possible to enter the sport at a competitive level, aided by a close technical partnership with Ferrari. The move paid off as Grosjean score two top-six finishes in the opening two races, and has gone on to pick up 29 points overall.
Grosjean admits he was not expecting such a successful first season in terms of big results and says the next target is to step up to the podium.
"It's been a great season," Grosjean said. "Joining the team for its first year was something special. I wanted to be the first person to score points for the team and a top-five. The next two targets are podiums and wins. Wearing the Haas Automation colors on the podium would be pretty special.
"For a first year, it's been a very exciting journey. There have been ups and downs for sure but, generally, I'm very proud of everything we've done. After Abu Dhabi there will be time to sit down and see what we can improve for the future, but overall we've done very well for a first season."
And Grosjean points to the opening two races as his main highlights for the year, as Haas excelled to finish sixth in Australia and then go one better with a fifth place on pace in Bahrain.
"It's always difficult to pick out one moment from the season because you have so many emotions with all the highs, the ups and the downs. If I had to say something, I'd say Australia, our first race together and our first points. When we got there, things weren't 100 percent perfect, but we managed to pull something out of the bag and score a sixth-place position.
"I said on the radio after our fifth-place finish in Bahrain, it felt like a win for the team. Twenty-nine points in our first year, being miles ahead of Renault, Sauber and Manor, and not that far off from teams like McLaren and Toro Rosso – that's a huge thing for us to accomplish in the first year. We've had some really good opportunities. We've had some that we've missed, but generally, our yearly review is a positive one."
FEATURE: When F1 team-mates fight for the title
SILBERMANN: A long-winded tribute to an often long-winded man
From the cockpit: Felipe Nasr on two precious points in Brazil
TECHNICAL ANALYSIS - Interlagos
Keep up to date with all the F1 news via Facebook and Twitter