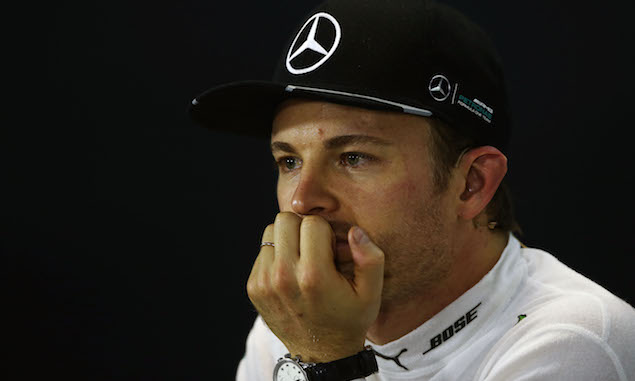 Red Bull team principal Christian Horner says he expects Formula One points leader Nico Rosberg to "be watching his mirrors more than most going into Turn 1" at the Abu Dhabi Grand Prix.
The Mercedes driver enters the final round of the season with a 12-point edge over team-mate Lewis Hamilton and can afford to settle for a podium to seal his first world title.
Despite repeated claims from Rosberg that he has not held back since extending his championship lead to 33 points in Suzuka last month, the German is coming off a trio of second-place finishes behind the Briton.
"He's driving with a championship in mind," Horner said. "He's a bright guy and he's driving the percentage game at the moment, banking the points. He can't afford to get tangled up with another battle, so he's probably going to be watching his mirrors more than most going into Turn 1.
"As we've seen with our guys, they're not in that position, they'll simply be going for it, so you can imagine him being a bit more tentative than he has been at other races.
"Abu Dhabi is the championship point effectively, so it will be interesting to see how [Nico] deals with that. He's driven well under pressure so far this year, he's driven a very strong season and things have gone his way which is sometimes the way things work out. For sure this will probably be the biggest race of his career this weekend to close the job off."
Reflecting on previous championship showdowns, Horner remembers that Sebastian Vettel was in a similar position to Hamilton back in 2010, with the Red Bull ace eventually taking the spoils as Ferrari's Fernando Alonso and team-mate Mark Webber faltered.
"I think psychologically it is easier for Lewis because it's an FA Cup final for him, he's just got to go for it," Horner added. "All he can do is win the race and then the other results have to take care of themselves.
"That was very much the scenario with Sebastian in 2010, there were four drivers that year - Lewis, Fernando, Mark and Seb - that all stood a chance of winning.
"Sebastian just paid no attention to what was going on around him, just got on with the job and drove a great race. The others tightened up a little bit, focusing... particularly Fernando covering what Mark was doing and forgetting what Seb was doing.
"And he went into that race similar to Nico just needing to finish in the top three to be world champion and events unfolded and Sebastian prevailed at the end of the day. It just goes to show you can't take anything for granted. At the end of the year the engines, the gearboxes are all getting up there in mileage.
"Nobody has been infallible to reliability issues, so you'd hope it wasn't a factor like that that dictated the championship, but Lewis definitely still has a pretty decent chance going into this final race."
Chris Medland's 2016 Abu Dhabi Grand Prix preview
FEATURE: Hamilton v Rosberg: 2016 F1 drivers' title permutations
TECHNICAL: Under the skin of the McLaren-Honda MP4-31
INTERVIEW: Rob Smedley on Felipe Massa
FEATURE: When F1 team-mates fight for the title
Keep up to date with all the F1 news via Facebook and Twitter