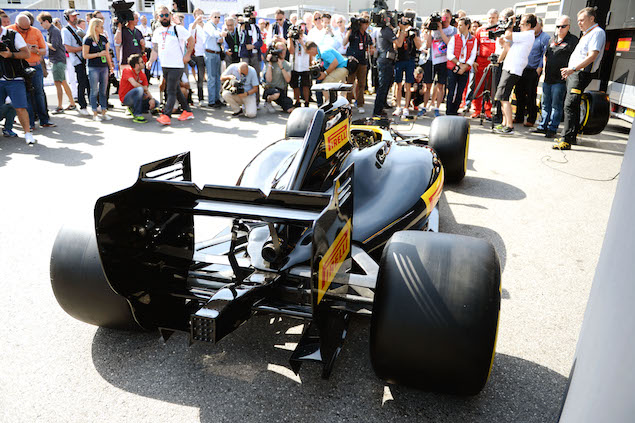 Pat Symonds doubts 2017-spec Formula One cars will lap five seconds faster as originally intended, but thinks "the four-second mark" can be reached at some venues.
Next year will see the introduction of more-agressive looking machines, after the FIA issued a blueprint to make the cars more challenging to drive. However, Symonds is not convinced the next breed of F1 chargers will prove much harder to handle than the current generation.
"No, not really," the Williams chief technical officer said over the Brazilian Grand Prix weekend.
"They've driven cars like this before, it's nothing like we didn't have in 2004/5, around then. To give you an example of a sort of typical 200km/h corner, it's probably going to go up by 30 or 35 km/h, adds a G to it. Yeah, it's going to be a bit more physical but it's not mind-blowing I don't think.
"The performance is getting more like the mid-2000 cars but not really there. You remember the target was five seconds a lap quicker, I'm not sure we will achieve that.
"We've got this big unknown of the tyres, of course, we really don't know where we are there. But making some sensible assumptions with the tyres I think we're going to see more like the four-second mark.
"A place like Barcelona where this type of car will be quite performant I think it will be a bit more than that but some places like Monza for example, where actually you'll be taking a lot of downforce off because you've inherently got a bit more drag from the wider tyres, I don't think we'll see much difference in lap time at a track like that. Or nowhere near that amount."
Even if 2017 cars fall short of the mark set out by F1 bosses, they will still present younger drivers with a significant challenge, as only a handful of names on the current grid were already there in the mid-2000s.
Chris Medland's 2016 Abu Dhabi Grand Prix preview
FEATURE: Hamilton v Rosberg: 2016 F1 drivers' title permutations
TECHNICAL: Under the skin of the McLaren-Honda MP4-31
INTERVIEW: Rob Smedley on Felipe Massa
FEATURE: When F1 team-mates fight for the title
Keep up to date with all the F1 news via Facebook and Twitter