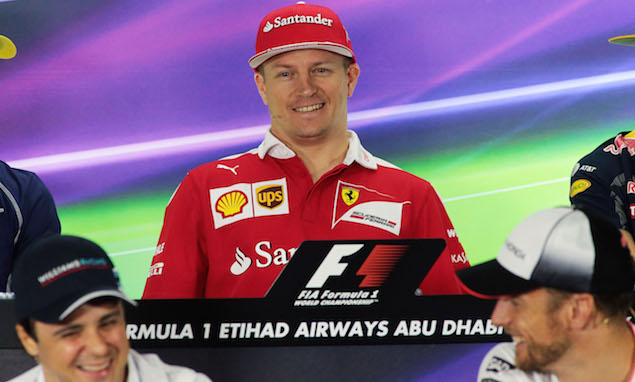 Ferrari star Kimi Raikkonen thinks 2016 Formula One title contenders Nico Rosberg and Lewis Hamilton would both make worthy champions.
The Mercedes team-mates enter the season-ending Abu Dhabi Grand prix weekend 12 points apart in the Drivers' standings, with current leader Rosberg only needing a podium finish to be crowned for the first time.
It has been suggested that Hamilton's reliability issues have eased the way for his German rival but Raikkonen, who erased a seven-point gap at the final round of the 2007 campaign to win that year's championship, feels a Rosberg title should not be belittled.
"I don't know what will happen on Sunday obviously, we'll see on Sunday and over the weekend," the 36-year-old said. "When I was in that situation obviously we had nothing to lose, so we go as any other race.
"We had a strong weekend [in Brazil 2007] and a strong last part of the year so obviously that helped. I don't think there's a point in doing anything different than you normally do. You always come to a race and try to do the maximum.
"Our only chance was to try to win and then see what happens to the other guys. As a team they did a very good job of it and then obviously had some luck involved and all things fell into place, so who knows what will happen on Sunday but whoever wins deserves it."
This weekend will also see two of Raikkonen's contemporaries leave the F1 stage, as Felipe Massa and Jenson Button prepare to make their final start.
"I left once already so I kind of know how it feels," the Finn replied when asked to comment on their departure. "Obviously, it's their choice and I'm sure they will have a lot of fun and I wish them all the best for whatever they do in their lives.
"For sure, things will change in F1 in the future and all of us will leave one day and that's just how it goes. They've both had a good long career in it and I'm sure they will have some other things to do now."
Raikkonen left F1 at the end of 2009 and made his return in 2012, having tried his hand at rallying and NASCAR during his time away from grand prix racing.
Grosjean column: Magnussen and THAT crash in Brazil
Chris Medland's 2016 Abu Dhabi Grand Prix preview
FEATURE: Hamilton v Rosberg: 2016 F1 drivers' title permutations
TECHNICAL: Under the skin of the McLaren-Honda MP4-31
Keep up to date with all the F1 news via Facebook and Twitter