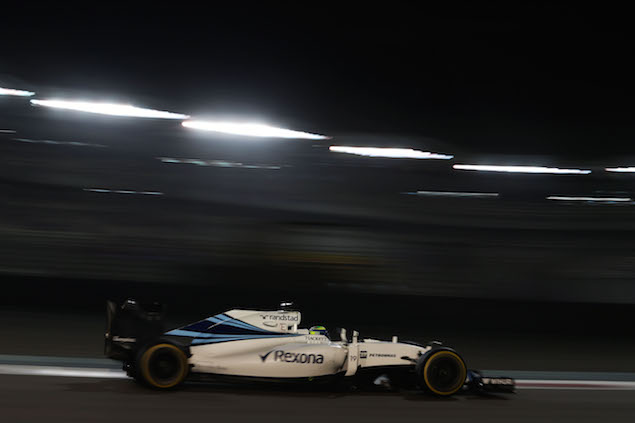 Rob Smedley says Felipe Massa holding off former Ferrari team-mate Fernando Alonso "was a fitting end to his career".
Massa's final race in F1 ended with the Brazilian finishing ninth, one place ahead of Alonso's McLaren. The pair used to be team-mates at Ferrari - where Smedley delivered the line "Fernando is faster than you" to inform Massa to move over for his team-mate at Hockenheim in 2010 - and Smedley says holding off the Spaniard was a fitting way to round off Massa's time in F1.
"It was a tough race, as we expected it to be," Smedley said. "Unfortunately, Valtteri [Bottas] went out with a rear suspension failure so we will look into that. Felipe drove a really good race in the car that he had and it was a fitting end to his career. Fernando Alonso gambled on a different tyre strategy but Felipe was able to hold him off until the end and finished ninth. It's not where we really want to be but it was a good job by all the guys."
Massa himself says he was pleased to be involved in a battle in his final race, and was determined not to let Alonso beat him to ninth place.
"Well, I'm really proud to have been fighting up to the last lap of the race in the same way I fought in the first lap of my career!" Massa said. "I want to say thank you to everyone – everyone who has been with me all the way, racing together. Thank you to the fans and to Williams, who I will keep supporting in the future!
"Thank you to everyone who has been part of everything I have been through. I have finished my career with my head up, the same way I started my career. I also took a little extra care with the car seeing as it will now be my car – thank you again to Williams for that gift!"
REPORT: Hamilton wins, as Rosberg takes title in Abu Dhabi
Jenson Button's F1 career: 17 seasons, 15 wins
Silbermann says ... Parting gifts galore
Chris Medland's 2016 Abu Dhabi Grand Prix preview
Keep up to date with all the F1 news via Facebook and Twitter