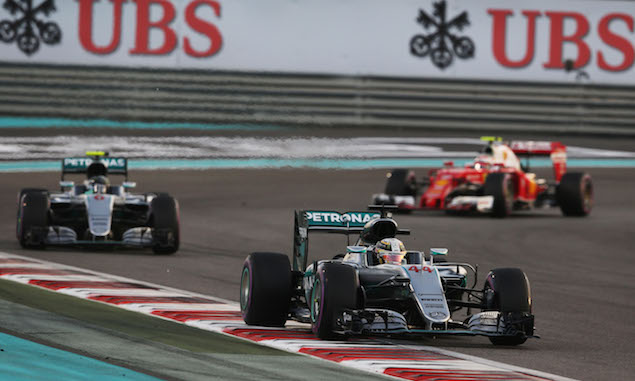 Nico Rosberg admits he didn't expect Lewis Hamilton to back him up into the rest of the field in their title decider at the Abu Dhabi Grand Prix.
Hamilton led from pole position and opted to slow the pace at the front of the field in order to leave Rosberg under threat from Sebastian Vettel and Max Verstappen behind him. While Christian Horner said Mercedes was "naive" to think Hamilton would approach the race any differently - needing to overturn a 12-point deficit - Rosberg says the tactics came as a surprise.
"I wasn't expecting it, maybe I was a bit naïve but I didn't expect it," Rosberg said. "It is not something we need to discuss because it is really easy to understand the team's side as we do something a certain way all year and we don't change it for one race.
"At the same time you can understand the side from Lewis because we are out their fighting as drivers and you can understand that he wants to try something. We will just leave it at that and don't need to discuss it."
And Rosberg says he did not enjoy fighting with Verstappen, having dropped behind the one-stopping Red Bull at one stage and having to make a move stick on track.
"It was not a nice thing to do, being told it was critical to pass Verstappen, it is not a nice thing to hear. Honestly it was really bad.
"When I was told I had to pass Verstappen as it was critical for the championship, holey moley, seriously. Not good but it worked out.
Asked if that was the most stressful part of his race, Rosberg replied: "That and the last ten laps as I could see them coming with what Lewis was doing and I didn't know how far he was going to push it. He could just go completely extreme and then made a right mess. I didn't know what to expect so that was also very, very tough. With Max too.
"The feeling that I had right after I passed him I have never had that in a race car before in my life. I don't want it to happen again."
REPORT: Hamilton wins, as Rosberg takes title in Abu Dhabi
Jenson Button's F1 career: 17 seasons, 15 wins
Silbermann says ... Parting gifts galore
Chris Medland's 2016 Abu Dhabi Grand Prix preview
Keep up to date with all the F1 news via Facebook and Twitter