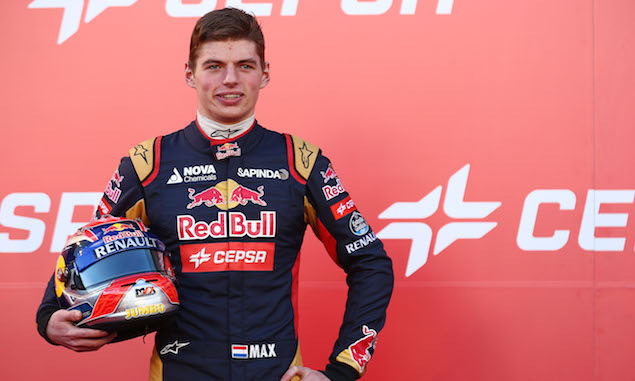 Max Verstappen says he doesn't feel any pressure ahead of his debut F1 season despite the interest surrounding his age.
At 17 years old, Verstappen will become the youngest driver in F1 history when he makes his debut in Melbourne at the start of the season. It's a record he's likely to hold for a number of years after the FIA changed the super licence regulations, but facing questions about his age at the launch of the Toro Rosso STR10 he said the interest doesn't get to him.
"I'm going to try to be consistent without making too many mistakes and in the end you want to take points so that's my goal," Verstappen said. "I don't feel pressure anyway, so I just focus on my job and you just try to do it in the best possible way and the best one you can do."
When it was pointed out to Verstappen that he was likely to remain the youngest F1 driver in history for a long time, he replied: "I don't really care about it, I just want to break other records!"
And after seeing the car he will race in Melbourne launched, Verstappen said it makes his debut feel a lot closer.
"Obviously it's not been very many years for me - I'm only 17 still - but you always want to be a Formula One driver and you get the chance now, when you see your own car standing there you can't wait to go out."
Click here for the full gallery of the first photos of the STR10
Keep up to date with all the F1 news via Facebook and Twitter