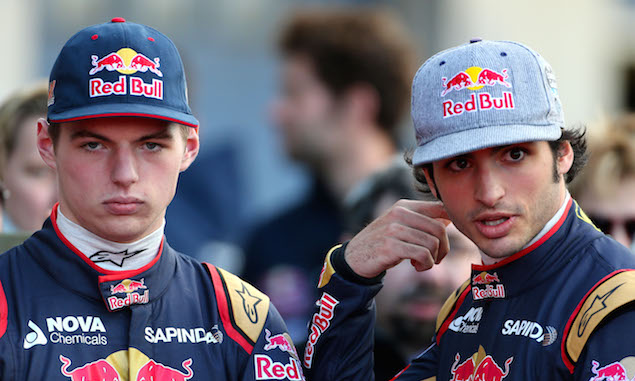 Carlos Sainz Jr says he is aware how hard he will have to work during pre-season testing to live up to Toro Rosso's expectations for 2015.
Following the launch of the STR10, team principal Franz Tost said the target for the team this season is to finish fifth in the constructors' championship. As part of an all-rookie line-up alongside Max Verstappen, Sainz Jr admits there will be a lot to learn during the three tests but he prefers having an ambitious target.
"For me it's obviously better and I'm very happy to be in a team that is looking to finish in fifth position," Sainz Jr said. "It gives me a good feeling, it gives me energy, good expectations so why not?
"I don't see that it's not possible. It will not be easy for sure, I will have to learn a lot in these 12 days of testing, the days that I'm in the car but also the days that I'm out of the car. So there will be a lot of things going on but it's always better to be in a team that wants to finish fifth than one that wants to finish seventh."
And Sainz Jr said the way Toro Rosso had hit its targets so far filled him with confidence that it would have a strong season.
"I think it's too early at the moment to have nerves. Probably in Melbourne obviously there will be a bit more nerves but at the moment there is a lot of concentration, a lot of will to go out on track. So far the team has done a great job for us to be fully prepared for this season.
"We have been the first team to run the car on track, everyone is very positive in the team which gives you a lot of good energy and good feelings. So at the moment there's no nerves, just looking forward to starting work with them, looking to do a good job and trying to arrive at the first race as well prepared as possible."
Click here for the full gallery of the first photos of the STR10
Keep up to date with all the F1 news via Facebook and Twitter