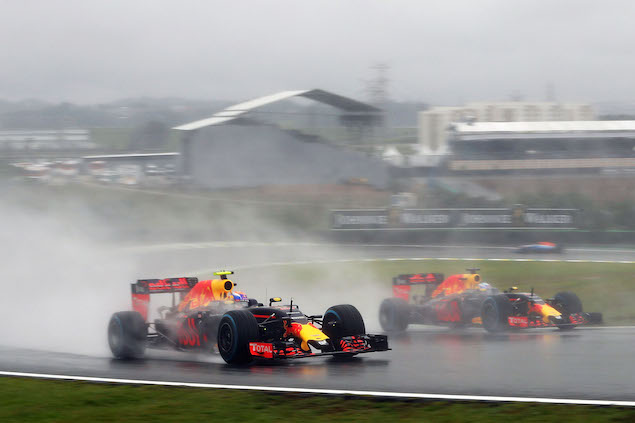 Daniel Ricciardo is taking the positives from the hype surrounding Max Verstappen, saying it will reflect well on him if he beats his team-mate.
Verstappen has been one of the success stories of 2016, stepping up to Red Bull and winning his first race for the team in Barcelona. A number of eye-catching performances followed, with his drive to third place in the Brazilian Grand Prix standing out as he rose from 16th place in the final stint.
One of the cars Verstappen overtook was Ricciardo as the latter struggled with a fogged visor, but the Australian believes it is positive for him to have a team-mate who is rated so highly.
"It was frustrating, I know personally that was my biggest limitation that race," Ricciardo said of having to see such a positive reaction to Verstappen's drive. "I know the car was good, so that was frustrating to not be able to deliver what the car was capable of but at the same time I'm aware that Max did a good race.
"He's had some pretty big praise but in a way the way I see it is quite cool because the more highly regarded he is then if I can go out next year and beat him again it doesn't make me look bad.
"If everyone's saying he's crap and doesn't deserve the seat and I'm just managing to beat him then it doesn't make me look that good. I would say he's probably twice as good as Senna…"
Jorge Lorenzo: When a two-wheel champion tests a Mercedes
Silbermann says ... Ignore Flavio, get Alonso in
INTERVIEW: Stoffel Vandoorne: The long wait is over
TECHNICAL: Under the skin of the Force India VJM09
Keep up to date with all the F1 news via Facebook and Twitter