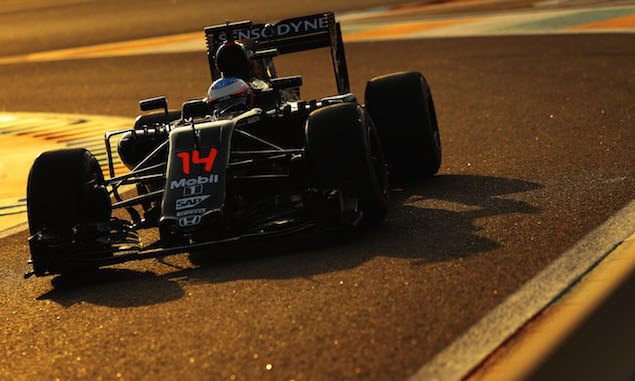 McLaren's 2017 F1 car "looks very aggressive" as the team continues to develop it over the winter, according to Stoffel Vandoorne.
New aerodynamic regulations will see wider cars, lower and wider rear wings as well as an increase in the width of the Pirelli tyres next season. Vandoorne will be driving alongside Fernando Alonso for McLaren and says he has already seen the 2017 car in development, with the design making a big first impression.
"I've seen it on a computer screen – just a 3D model," Vandoorne told the McLaren website. "It's quite different to what the cars look like now. it looks very cool, very futuristic – especially with the wider tyres and bigger rear wing. When you look at the CG model from the rear, it looks very aggressive. They'll look cool."
And Vandoorne is aware he will need to train hard for the new cars, which are expecting to be much more challenging to drive from a physical point of view.
"I think next year's cars are going to be a bit more challenging to drive, because the aero and new tyres should make them a couple of seconds quicker per lap than the current cars. They'll be physically tougher – so I'll be working with my trainer: we're going on a few winter training camps to get myself as well prepared as possible for the first test.
"It's still a bit difficult to know exactly what to expect – we don't yet know how tough these new cars will be – but I think that's good. When things get difficult for everybody, that can make a bigger difference. So let's see.
"The biggest challenge will be training the neck – it's the hardest muscle to train; it's difficult to simulate the g-forces. And, no matter how much you train during the winter, at the end of the first day back in the car after the Christmas break, you always end up feeling knackered."
Romain Grosjean column: 2016 showed exciting Haas potential
TECHNICAL: Under the skin of the Williams FW38
Silbermann says... Let's go racing in December!
Jorge Lorenzo: When a two-wheel champion tests a Mercedes
Keep up to date with all the F1 news via Facebook and Twitter