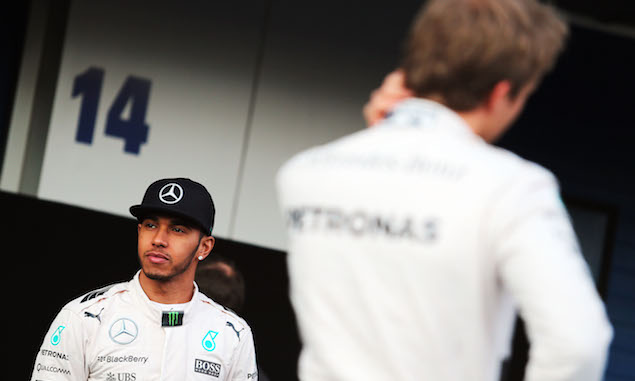 Lewis Hamilton says his motivation and focus has not dropped despite winning his second world championship last year.
With Mercedes dominating in 2014, Hamilton became a double world champion with victory in Abu Dhabi after a season-long battle with team-mate Nico Rosberg. Such was Mercedes' advantage, Paddy Lowe admits the team has had to make sure it didn't get complacent over the winter but Hamilton says his own personal motivation is as high as ever.
"You hear about people who achieve a lot but then lose their focus and you wonder; at what point does it fade off?" Hamilton said. "I'm grateful that the fire is still there in me. I think subconsciously the taste of success spurs me on - I like that feeling and I want to feel it again and again.
"I'm not going to sit here and say I don't feel like I've won two World Championships - but I'm a racer. I'm glad me and Nico had the battle we did last year. I love winning races but it just feels so much better when you have to fight for it. I just want to get back out there, race hard, be the best I can be and hopefully win some more.
"But just because you've had success before, it's never easy to just carry it on. We've probably made it harder for ourselves with the way things went last year - it isn't easy to improve on something that was already so strong when the rules haven't really changed. But we know there are areas we can improve and I know everyone wants to come back even stronger.
"I've seen the guys at the factory pushing like crazy to put everything together, so it just goes to show that you can't ever really be comfortable. Hopefully we're on the right path. It's not until the end of the last test that you start to get a feel for where the car might be - and even then you don't know for sure. You can never rule anybody out and we'll be keeping an eye on the others as always."
Follow Jerez testing live here
Click here for the full gallery of the Mercedes W06 at Jerez
Keep up to date with all the F1 news via Facebook and Twitter