Antonio Giovinazzi (P10, 1 pt): 6.5/10
The less said about Saturday the better as far as Antonio Giovinazzi is concerned, with traffic leaving him a long way off the closely fought battle to make it into the second round. It meant he started from the back row of the grid, and with little left to lose he opted to throw caution to the wind and start the race on soft tyres in the hope of pulling off a banzai move when the lights went out. And he delivered exactly that, blasting his way up to 14th place by the end of the first lap and passing the likes of Kimi Raikkonen and Sebastian Vettel on the way before cashing in his winnings by consolidating them with an early pit stop on lap 10. After that it was game on for a shot at taking home a point or two. It still needed a few cars ahead of him (notably George Russell and both Red Bulls) to spin out of contention, but when the dust settled Giovinazzi found himself in tenth place and duly followed Raikkonen to the finish in a rare double points success for Alfa Romeo on Giovinazzi's home ground.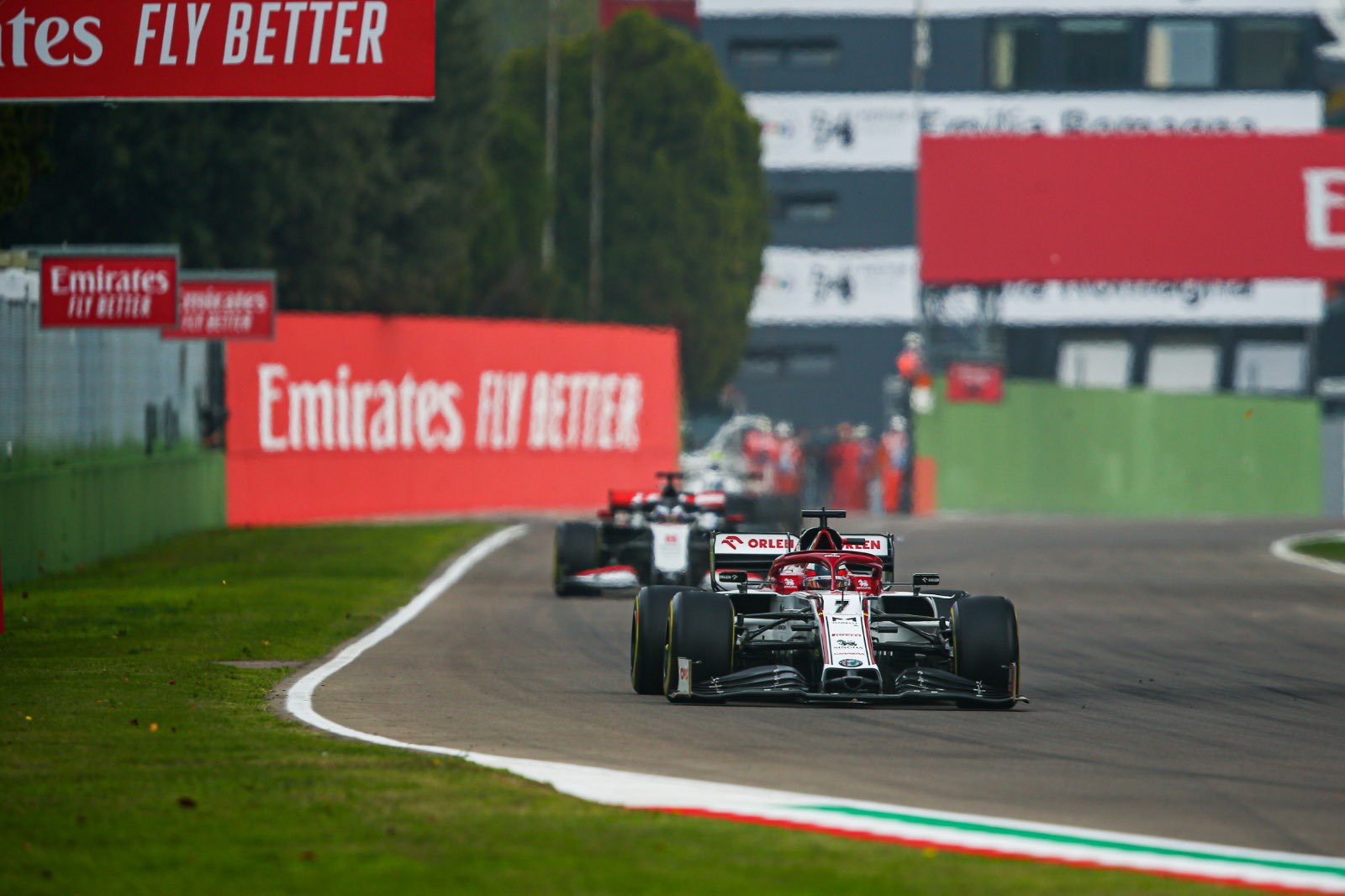 Kimi Raikkonen (P9, 2 pts): 8.5/10
Alfa Romeo chose Imola as the venue to confirm that both of their current drivers would be staying with the team for 2021, and the news seemed to put a spring in Kimi Raikkonen's step all weekend. He also had a unique advantage over the rest of the drivers on the grid as the only man to have competed in Grands Prix at the Autodromo Enzo e Dino Ferrari. Whatever the reason, Kimi was driving like a man ten years younger than his true age, although that wasn't immediately apparent in practice or qualifying on Saturday. The race however was a different matter: starting from 18th on the grid, he made up two places at the start although he could do nothing about the ferocious pace of Antonio Giovinazzi on the soft tyres. He himself had been tasked with starting on the medium tyres and making them last as long as possible - and that proved to be a whopping 48 laps. It meant he pitted just before the safety car for Max Verstappen's retirement, and it allowed him to end the race with a manageably short stint on soft tyres that gave him an advantage at the restart with a safe cruise to the finish line in ninth place. F1's oldest longest-serving driver is showing no signs of fatigue, that's for sure, and he can still deliver the goods when the opportunity presents itself.