McLaren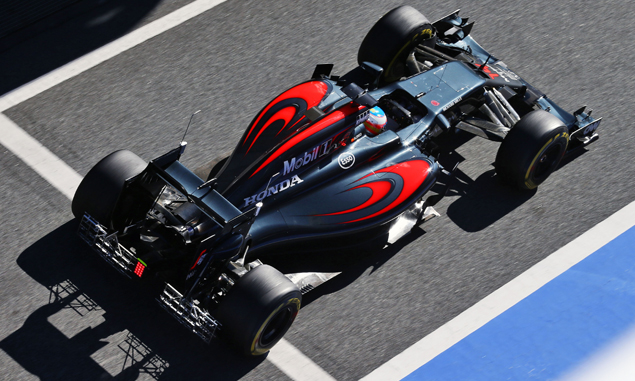 Fernando Alonso (7th, 1:24.870, 118 laps)
"I'm quite happy with our reliability so far. We've worked really hard over the winter and the answers we've got – especially on the power unit side – over the last few weeks are quite positive. In terms of performance, we are on standby at the moment, as it's difficult to read the times in winter testing as they are always changing. We'll wait for Australia: the same start time, everyone on the track, the same fuel loads and the same tyres for everybody, and then we'll get the answer. I think there's still a lot of work to do for us, but hopefully we are much closer than last year on the performance side.
"On the power unit side, there is still some potential to unlock in terms of performance, and also in the next steps that we need to take for the following engines that will come over the first few races. On the chassis side, there are still many things to be tested: some new concepts that we have on the car aerodynamically, and a new re-design on the back of the car that we need to keep studying and understanding how to use that area to maximise our potential.
"At the end of the day, I've had three days testing the car – not including the running we lost due to a mechanical issue. When you finish pre-season testing you always feel that there are still many things to test and work on in the car, and I feel the same now. I'm happy with the job we've done these past two weeks, but I'm sure during the first two or three races more potential will come, because we'll have had more track time."
Eric Boullier, racing director
"I'm very pleased once again that we've managed to surpass a century of laps on track today. So far, we have enjoyed good reliability in comparison to the same time last year, which has meant we've been able to spend a lot of time working on detailed evaluation and correlation of both our chassis and power unit.
"We have been regularly bringing new aerodynamic parts to the car this week, and today focussed heavily on correlating these with our simulation data and testing their compatibility with our chassis. Also new for this year is the suspension design, and we've been working hard to understand both its behaviour and how to exploit it to its full potential.
"Likewise, with the power unit, Honda has certainly made big gains in many areas – most notably with reliability until now, and an improvement in the deployment – but there is still a lot more than can be done before we can really maximise its performance.
"Today we ran both the Supersoft and Ultrasoft tyres for the first time in order to perform some race stint simulations and compare the data between the compounds, which was very useful and will help in determining our final set-up ahead of the first grand prix in Melbourne. We only have one more day of pre-season testing left – which as a team you never feel is enough – and we have a lot of work to do tomorrow to ensure we feel as prepared as we can before we fly to Australia."
Yusuke Hasegawa, Honda R&D head of F1 project
"We concentrated on maturing and setting our engine modes for race trim, and completed a full day's running with a stable power unit. 

"On our last day of winter testing tomorrow, we plan to continue our evaluations, perform our final power unit data checks and preparations, and finalise our mode settings in order to ready ourselves for the season-opening race in Australia."