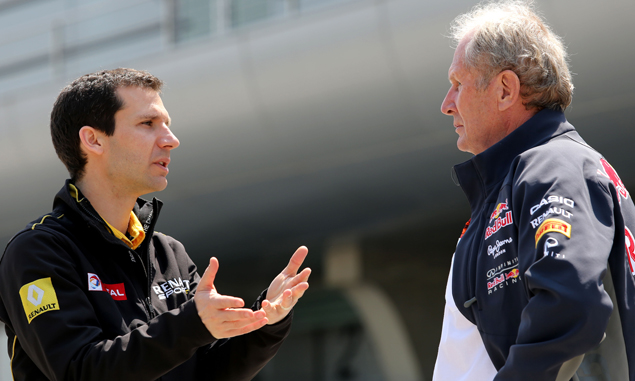 Renault Sport F1 director of operations Rémi Taffin says the French engine supplier will try to introduce "more permanent fixes" to its power unit following a raft of reliability issues over the past two races.
While poor driveability had been Renault's main concern early on, supplied teams Red Bull and Toro Rosso's were plagued by a litany of technical problems in China and Malaysia.
Daniil Kvyat and Max Verstappen both succumbed to an ICE failure at Shanghai while Ricciardo also had to change his as a precaution. Using his third engine out of the allocated four at Sakhir, the Australian made it to the finish in the nick of time, as his power unit blew up in a plume of smoke inches before the chequered flag.
His RB11 still managed to cross the line and claim P6 but Red Bull team principal Christian Horner has already confirmed Ricciardo will be on his fourth engine in Barcelona next month.
Sister team Toro Rosso also fell foul of a technical glitch in Bahrain after Verstappen had to retire from the race following an electrical issue.
Although these latest failures did not stun Taffin, the French engineer explains that Renault had taken a cautious approach to avoid a repeat of its Chinese Grand Prix woes.
"We were conservative with the PU settings as we knew we were at a potential risk of problems," he said. "We just got to the end of the race with Red Bull.
"With three weeks to the next race we will look in detail at the first four races – the positive, as well as the negative. We will also look at more permanent fixes to the problems experienced and take further steps forward on all fronts."
Renault Sport F1 managing director Cyril Abiteboul echoes Taffin's sentiment and is confident the three-week gap before next month's Spanish Grand Prix will enable the French power unit supplier to improve across the board.
"Another engine problem is definitely not what we wanted to see, but I will take as a positive sign that it was at the very end and did not impact the final result of Daniel," said Abiteboul.
"Reliability has been our Achilles Heel since the last two races, but with 18 days to go before the first session in Spain, we have the time to introduce the more permanent fixes we have in the pipeline and start making the performance steps we are all keen to make."
Click here for analysis of the development war between Ferrari and Mercedes 
Keep up to date with all the F1 news via Facebook and Twitter