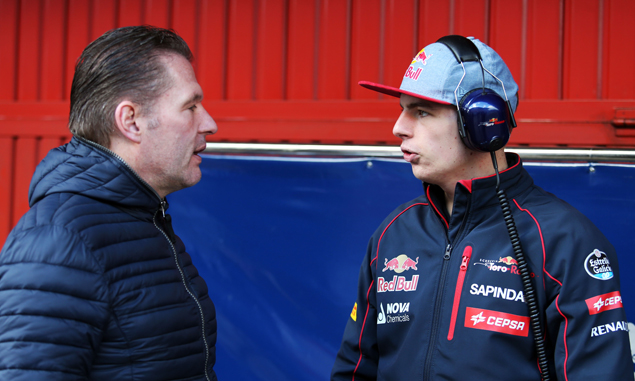 Ex-F1 driver Jos Verstappen dismisses rumours about his 17-year-old son Max making a shock move to Ferrari in 2016, saying "there is no contact" with the revered Italian squad.
Verstappen is making his highly anticipated Formula One debut with Toro Rosso this year after Red Bull convinced the teenage sensation to join its stable of young drivers on a multi-year deal in 2014 .
"For us it was very important to be able to have a long-term contract with Red Bull, and we are very satisfied with that," Verstappen Snr told Speed Week.
Although the high-profile rookie retired in four of his first nine races at the top echelon, he also put in some eye-catching performances and became the youngest F1 racer ever to score a point at Sepang in what was only his second start.
Meanwhile, there has been growing speculation about Kimi Raikkonen's potential replacement at Ferrari, with fellow Finn Valtteri Bottas looking like a prime candidate.
But the traditional F1 silly season forced Red Bull advisor Helmut Marko to defuse any potential rumour sending Verstappen to Maranello in 2016, something that his father does not see happening either.
"I haven't the slightest idea where this rumour comes from – maybe it's because Max does a good job! Perhaps it's also because Ferrari is thinking about replacing Kimi Raikkonen, and then the rumours start. But the fact is that there is no contact with Ferrari."
Click here for an exclusive Q&A with Red Bull's Adrian Newey
Keep up to date with all the F1 news via Facebook and Twitter