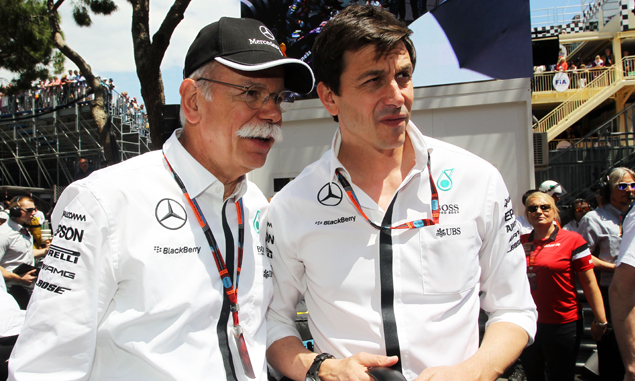 Mercedes motorsport boss Toto Wolff is adamant his team will have a home race in 2016, with the German Grand Prix featuring on the 21-date calendar recently approved by the FIA.
The event was initially scheduled to take place at the Nürburgring this year only for contract talks to reach a dead end and prompt Formula One to seek a fresh agreement with Hockenheim, but to no avail.
Although the future of the German Grand Prix future remains partly in doubt, Wolff's optimism is unflappable.
"We will be in Germany next year – the race is 100 per cent going to happen," he told The Independent.
"The budget is there, it is a fact. [F1 commercial supremo] Bernie Ecclestone, Mercedes and the organisers in Hockenheim tried to help fund it [this year] but we couldn't come up with the budget."
Germany is one of the longest-standing F1 destinations – prior to 2015 it had uninterruptedly appeared on the F1 calendar since 1960. The country is also tied with the UK and Spain for the strongest contingent in the sport in 2015, as it boasts four-time world champion Sebastian Vettel, 11-time grand prix winner Nico Rosberg and Le Mans 24 Hours victor Nico Hulkenberg.
While Wolff confesses defending champions Mercedes are suffering from the German Grand Prix absence this year, he equally hopes its demise turns out to be only a temporary blip before coming back rejuvenated.
"There is an impact on Mercedes from losing the German Grand Prix but, as much as it is a shame that we can't show and display our cars in front of our fans and Daimler colleagues, we will be there next year."
"There is a little bit of a hangover in Germany about F1, sports in general and national heroes.
"We had Michael Schumacher five times in a row, we had Sebastian Vettel four times in a row, the German football team winning the World Cup. I think they have had it all and where do you go from there."
"Maybe not going there for a year and coming back next year could be a good thing".
Click here for an exclusive Q&A with Red Bull's Adrian Newey
Keep up to date with all the F1 news via Facebook and Twitter