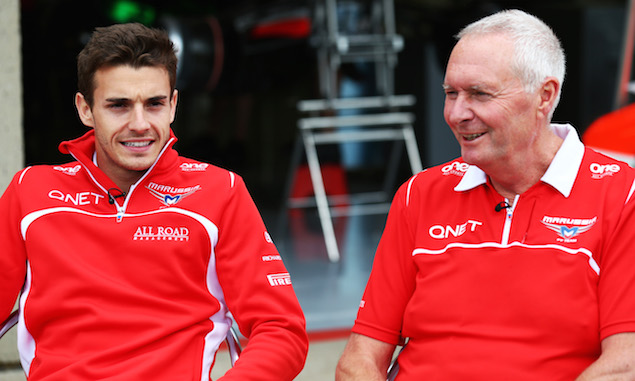 Manor team principal John Booth has paid tribute to Jules Bianchi, describing him as "a shining talent" following his death.
Bianchi drove for Manor - then known as Marussia - in 2013 and 2014, impressing in his debut season before scoring the team's first points with ninth place in Monaco last season. Bianchi was severely injured in an accident at the Japanese Grand Prix last year and succumbed to his injuries on Friday night after nine months in a coma. He was 25.
Booth describes Bianchi as "a very special driver" as well as "a magnificent human being" who appeared destined to achieve more in F1.
"Words cannot describe the enormous sadness within our team this morning, as we come to terms with losing Jules," Booth said. "He has left an indelible mark on all our lives, and will forever be part of everything we have achieved, and everything we will strive for going forward.
"Jules was a shining talent. He was destined for great things in our sport; success he so richly deserved. He was also a magnificent human being, making a lasting impression on countless people all over the world. They recognised, as did we, that at the same time as being a fiercely motivated racer, he was also an extremely warm, humble and intensely likeable person, who lit up our garage and our lives.
"We are incredibly grateful that we were able to provide Jules with the opportunity to show the world what he could do in a Formula 1 car. We knew we had a very special driver on our hands from the first time he drove our car in pre-season testing in 2013. It has been an honour to be able to consider him our race driver, our team-mate, and of course our friend.
"Our thoughts and prayers are with the wonderful Bianchi family, who have remained so strong for Jules throughout the past nine months. In turn, Jules was an absolute credit to them.
"Finally, we would like to thank everyone who has supported Jules since his accident in Japan last October. Your kindness has been such a source of comfort to his family and to us, his team. We will rely on your continued support over the coming days and months as we race on for Jules."