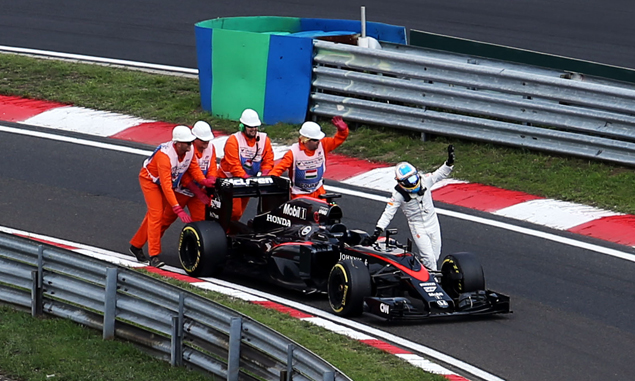 Fernando Alonso claims he still enjoys racing in Formula One and says pushing his stricken McLaren-Honda during qualifying for the Hungarian Grand Prix showed "how much I love my sport".
The Spaniard was targeting a maiden Q3 appearance this year at Budapest when his MP4-30 "switched off" on pit entry in Q2.
Notwithstanding the searing heat, the double world champion jumped out of his car and started pushing it towards the McLaren-Honda box in order to get going again. Despite Alonso saying there is a "temptation" for him to race in other motorsport categories, the 34-year-old insists he remains enamoured with F1.
"I want to be out there and I want to race," said the ex-Ferrari star. "This shows how much I love my sport. It doesn't matter if you are last, if you are 15th or if you are on pole position, you want to drive the car and you want to enjoy it out there."
Having returned to McLaren this year, Alonso has experienced a torrid first half of the season as Honda struggles to get on top of the new hybrid power unit technology.
While the Spaniard admits his team's double top-10 finish in Hungary owed more to race circumstances than raw pace, he is adamant the 12 points scored – the same tally as Mercedes – will be a much-needed boost for McLaren-Honda.
"We are here to compete, to win, but we are not in that position right now. Every race is a test for us.
"We need to keep improving and we need to keep growing. I think we know that we are going in the right direction, but it's always better if you score points."
"We were a little bit lucky with some of the things that have happened but, in some of other races, we have been unlucky, so we need take every opportunity."
Eric Boullier exclusive interview: Steadying the McLaren-Honda ship
Click here for a lighter look at some scenes from the Hungarian Grand Prix
Keep up to date with all the F1 news via Facebook and Twitter