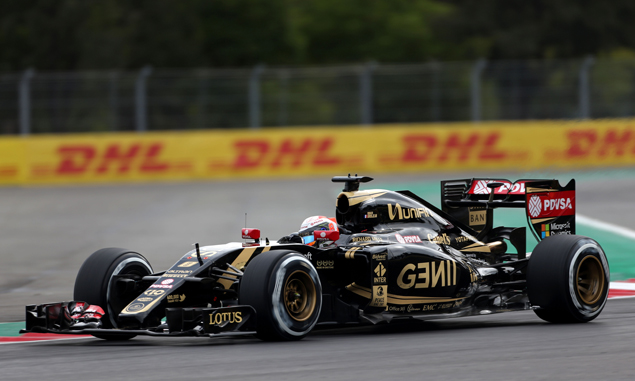 Romain Grosjean approaches this weekend's Brazilian Grand Prix with great confidence, saying that Interlagos "really suits my driving style".
The Frenchman is entering the final stretch of his Lotus career before joining newcomers Haas F1 team for their debut season in 2016.
Grosjean has not scored any point across his four previous visits to Autódromo José Carlos Pace, but that does not prevent the 29-year-old from heaping praise on the São Paulo circuit.
"It's a fantastic track and there's no part of it that isn't great," Grosjean said. "It really suits my driving style so I'm really looking forward to it. It's a big challenge at every turn. There never seems to have a part where you relax.
"Even the main start-finish 'straight' isn't boring as it starts uphill with some interesting camber, then gradually turns before finishing at the downhill turn one, where it's so easy to out-brake yourself.
"If I had to pick favourite parts of Interlagos, I would say the first and last corners; the first corner is really technical and punishes you if you get it wrong, and the last corner is so fast and really puts quite a stain on your body.
"As a driver I really enjoy these corners. It's an old style track, so very hard to pick out a single element; I'd say everything is pretty good in Interlagos; I love it!"
And it's not only the track that Grosjean thoroughly enjoys in Brazil. Coming off a very popular Mexican Grand Prix, the former GP2 Series champion expects the same enthusiastic reception at the historic venue.
"[Local fans] really love Formula One and Formula One really loves the Brazilian fans. You feel the passion when you arrive at the circuit and you see so many fans outside and around the track and city too.
"Of course, we know they all save their strongest support for their own Brazilian drivers but everyone in Formula One gets a strong welcome."
Grosjean currently sits 11th in the Drivers' championship, two points adrift of Toro Rosso rookie Max Verstappen.
'In F1 you discover a whole new person in yourself' - click here for the full Carlos Sainz interview
Click here for an exclusive Q&A with Jolyon Palmer
Use the red tabs on either side of the screen to scroll through more Formula One news and features
Click here for the F1 drivers' girlfriends gallery
Keep up to date with all the F1 news via Facebook and Twitter