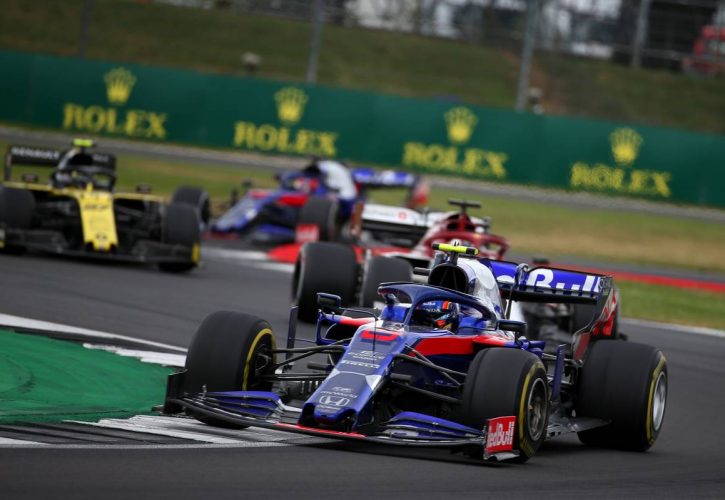 A high-voltage cautionary signal generated by Honda's power unit deprived Toro Rosso's Alex Albon of a top-ten finish in Sunday's British Grand Prix.
The British-Thai racer launched his race from P9 and held his own for most of the afternoon thanks to a spirited and steady driver.
Albon's first pit stop and switch from soft to medium tyres on lap 13 went according to plan, but his second planned stop was ruled out because of a voltage issue that would have made his Toro Rosso potentially unsafe to touch.
Since the advent of the hybrid era, Formula 1 teams follow mandatory guidelines that forbid touching a car in the event of a surge in electrical power without shutting the engine off first.
"We had a caution from our high-voltage system. We will investigate exactly why it happened, from now," Honda F1 boss Toyoharu Tanabe told Motorsport.com.
"If you have some caution from the high-voltage system you need to turn the engine off to touch the car.
"Which is better – you keep running, or stop and turn the engine off to change the tyres? The compromised answer which we and the team made was to stay out."
Tanabe admitted he had never encountered such an incident since the start of his tenure in F1 with Honda in 2018.
"This is the first time in one and a half years it's happened in person, trackside," he said.
"As the data showed a high voltage issue, we told the team it was inadvisable to make a second stop on safety grounds.
"Of course, we will now analyse this issue very carefully. It wasn't the best race for us, but for the fans it was another really exciting Grand Prix."
Gallery: The beautiful wives and girlfriends of F1 drivers
Keep up to date with all the F1 news via Facebook and Twitter