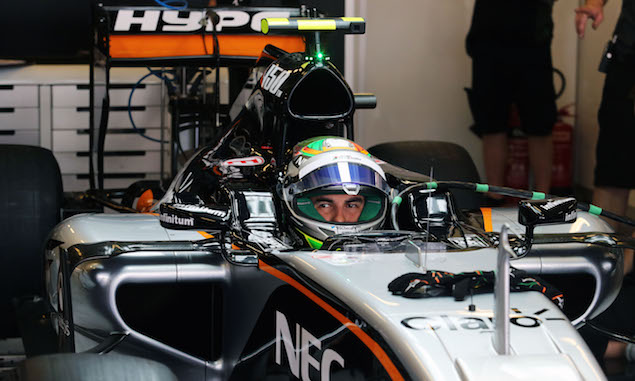 Sergio Perez says the turnaround in Force India's season in 2015 surprised him "massively".
Force India faced production delays with its 2015 car and launched a base car late in pre-season testing to use for the first half of the season. While the car was not quick at first, the team made the most of strong reliability to still sit fight in the constructors' championship after the Austrian Grand Prix.
A B-spec car was introduced at the following race at Silverstone and Force India went on to score 77% of its points in the remaining 11 races, with Perez admitting he was not expecting such an improvement.
"It really surprised me massively," Perez said. "It has been a very strong second-half of the year. We have had great results, great races, some bad luck here and there but that is normal when you have those kind of things during a year.
"The part that surprised me the most was how we managed to get the maximum out of the car before the upgrade came. In Austria, before Silverstone, we were fifth in the constructors' championship but a good three or four tenths away from Lotus, and that is a big number.
"We were always looking at the simulations and every simulation was saying we were going to finish behind them, but we managed to beat them race-by-race. Once the upgrade came, obviously it turned around the season, but before that was the best part of the year for me."
BBC confirms it is dropping F1 coverage, Channel 4 steps in