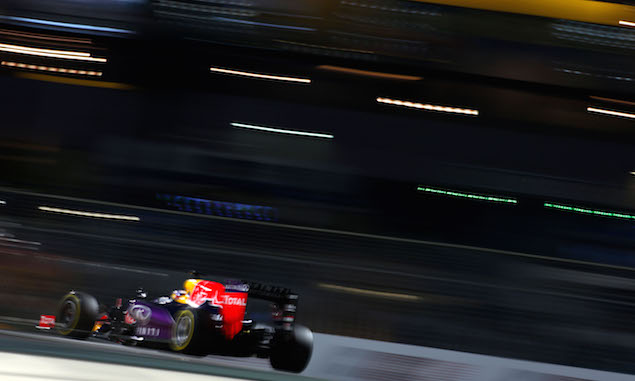 Proposed new regulations designed to radically change the look and performance of F1 cars in 2017 "are actually not that different to what we have now", according to Adrian Newey.
The initial target for the new regulations was to make cars faster and more aggressive-looking, with an improvement in lap time of up to five seconds given by the FIA. Red Bull chief technical officer Newey says a new set of regulations normally excite him as they provide the chance for new designs but he feels the plans for 2017 are too similar to the current rules.
"I have always enjoyed rule changes because it gives fresh opportunities," Newey told The National. "The regulations have become increasingly restrictive. If you go back to, let's say the 1970s and the 1980s, you saw this huge variety of shapes of cars because the regulations were relatively free.
"Now, if you painted all the cars white in the pit lane, you have to be quite knowledgeable to know which car is from which team.
"Regulation changes give that opportunity to do something different. However, with the regulation changes that are being talked about for 2017, they are actually not that different to what we have now. Slightly wider tyres. Slightly revised aerodynamics regulations. No really fundamental differences."
Williams' Pat Symonds has previously described the styling of the 2017 cars as "a little bit retro" and believes the planned regulations will result in quicker lap times.
Five things to look forward in F1 in 2016
Key dates for the 2016 F1 season
Technical feature: All of the 2015 F1 steering wheels
Use the red tabs on either side of the screen to scroll through more Formula One news and features