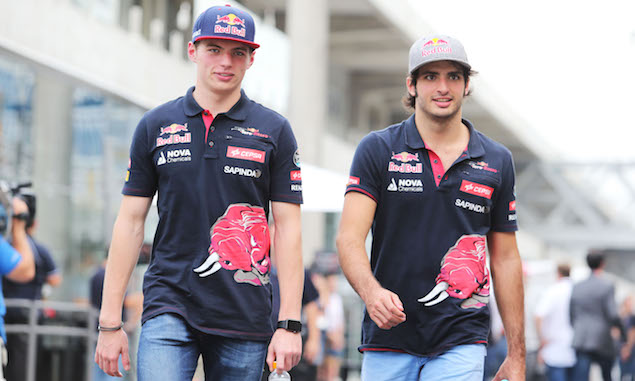 Carlos Sainz has called on Toro Rosso to allow him and team-mate Max Verstappen to fight on track more often without team orders.
The two Toro Rosso rookies were often subjected to requests from the team during 2015, with Verstappen memorably declining to move over for Sainz in Singapore. Sainz says the two drivers get on well enough to be trusted to race each other cleanly and hopes the team will allow them to do so in future.
"At Toro Rosso it is common to receive the radio message [let him past] when the other car is getting close," Sainz told Auto Motor und Sport. "I think it would be fun if we could fight more against each other. We have a mutual respect for each other and we would certainly offer a good show as our pace was very similar ... That would have been exciting."
And Sainz says Verstappen's refusal to move over in Singapore did not damage their relationship, with the pair still on good terms despite often being closely matched on track.
"We provide a close fight. We are always very close together. The whole year was like this. One might think that our relationship deteriorated after Singapore, but that is not so. We then talked about it and cleared everything up. After that the relationship was again as it was early in the season. I hope it stays that way next year too."
Five things to look forward in F1 in 2016
Key dates for the 2016 F1 season
Technical feature: All of the 2015 F1 steering wheels
Use the red tabs on either side of the screen to scroll through more Formula One news and features