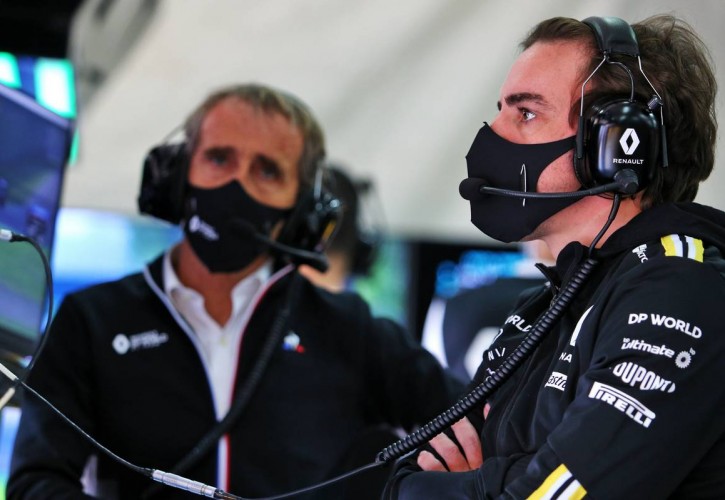 Renault F1 boss Cyril Abiteboul says several of its rivals have stepped in to block Fernando Alonso's participation in the post-season young drivers' test at Abu Dhabi in December.
As he gears up for his return to F1 next season with Renault, Alonso was given a limited filming day run at Barcelona recently onboard the French outfit's 2020 car.
The Spaniard will also enjoy a two-day test at Bahrain next week with a 2018-spec machine, but Renault is hoping to cap off its driver's preparation with a final run ay Abu Dhabi next month.
As the test is organized "for the sole purpose of providing young drivers with the opportunity to test a current Formula 1 car", per the FIA's rules, Renault has requested an exemption from the governing body to include Alonso.
However, three teams - believed to be Ferrari, McLaren and Racing Point - have voiced their opposition to Renault's initiative, a resistance that obviously frustrates Abiteboul who hopes the FIA will overrule the opposition.
"It was the usual stuff of trying to play any little game possible," Abiteboul told Motorsport.com.
"But most teams are more pragmatic. We just need to hope the FIA will be. Renault does so much for young drivers."
McLaren F1 boss Andreas Seidl conceded that his team had indeed opposed Alonso's exemption at last Monday's Zoom video meeting of the F1 Commission. But the German stopped short of elaborating on the discussions that took place during the conference call.
"It is clear that we all voted for a regulation change at the beginning of the year when this pandemic started, which ended up in these tests clearly being defined in the sporting regulations having a sole purpose of testing young drivers," he said.
"I think in the rules it says that it cannot be drivers that have done a maximum of two Grands Prix. And then it gives the opportunity for FIA as well, at their own or sole discretion, to make exceptions there.
"But again, it doesn't change the overall sole purpose of this test, which is a young driver test. So I think there's really not a lot to be discussed on this topic.
"Fernando is a great F1 race driver, with a great record of success. And I can't really see how he fits into the sole purpose of a young driver.
"On the other hand, if he were to get defined as a young driver, to be honest, I think it would be simply a great message for all of us, because I consider myself also as a young F1 team member, which makes me feel good!" joked Seidl.
"At the same time it does not justify that this test will go ahead."
Gallery: The beautiful wives and girlfriends of F1 drivers
Keep up to date with all the F1 news via Facebook and Twitter