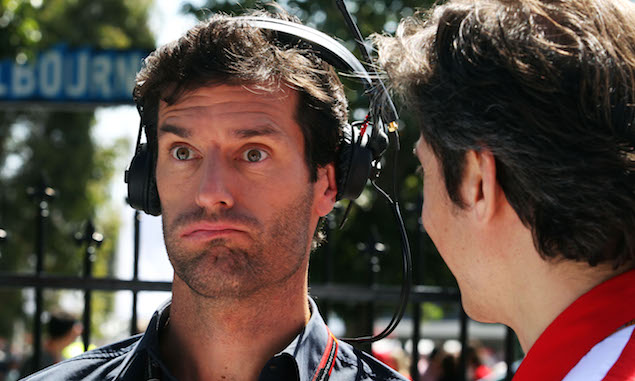 Mark Webber says Sebastian Vettel is the best driver currently on the F1 grid and singles out Pastor Maldonado as the worst.
Four-time world champion Vettel was Webber's team-mate at Red Bull for five seasons, with the pair having an acrimonious relationship which appears to have thawed since Webber's retirement from F1 at the end of 2013. Reflecting on who he felt were the best drivers he raced against, the Australian picked out his former team-mate as well as triple world champion Lewis Hamilton.
"If you're talking Formula 1, the good boys always find themselves at the front and the good guys always find themselves in the best cars," Webber told Wheels Magazine at the Australian Motoring Awards.
"Lewis has always been an incredibly fast, naturally gifted guy in all conditions and he's very, very insensitive to tracks and to light rain and drizzle. It's these sorts of things that makes the calibre of a very, very fast and phenomenal driver.
"Someone like Seb [Vettel], he's very good at the resources, at pulling the whole team together and getting everything around him and filling in his weaknesses. He's exceptional on that front."
And Webber - who also had a word of praise for Max Verstappen's talent - says Fernando Alonso's recent struggles at Ferrari and latterly McLaren have had an impact on his performances
"Fernando, I wouldn't say he's running out of puff, but his motivation I think at the moment is challenged for sure.
"But those three [Vettel, Hamilton and Alonso] are on a very, very, high level. And if I had to pick one, I'd probably pick Sebastian, in terms of pulling the whole juggernaut together and getting the whole team going, which I think he will do at Ferrari shortly.
"He's notoriously consistent and unfortunately I was on the receiving end of a lot of that, but he's pretty handy. Lewis has a little bit more of that mind-management challenge, whereas Sebastian is true to form in the Germanic fashion of that delivery."
And asked who was the worst driver he raced against in F1, Webber replied: "Probably Maldonado.
"He's out of his depth and just shouldn't be there. He's making up the numbers basically."
Force India winter diary part three - Sporting Director
1982 French GP: A French touch of clash...
Key dates for the 2016 F1 season
Keep up to date with all the F1 news via Facebook and Twitter