Formula 1 has tweaked its 2021 calendar, changing several race dates and reducing the year's schedule from 23 to 22 events.
As the global Covid-19 pandemic continues to challenge race organisers, with Japan recently joining this season's list of cancellations, the sport's logistics are being challenged, forcing Formula One Management to integrate ongoing changes.
While the schedule remains intact up until the Russian Grand Prix in late September, Turkey, Mexico and Brazil have all been pushed back by a week, with Turkey therefore filling the previously TBA slot scheduled on October 10, which reduces the calendar to 22 rounds.
The race in Istanbul remains on F1's agenda despite the country still being earmarked on the UK's red list. But the latter is expected to be updated on September 16 by the UK government, at which point a final will likely be made on Turkey.
If the event is scrapped, Mugello could be slotted in as a replacement venue.
Formula 1 has a weekend open right after Brazil on November 21, and many expect the slot to be filled by Qatar's Losail International Circuit, but a second race in Bahrain is reportedly still being considered.
As previously planned, the season will end with F1's maiden visit to Saudi Arabia and the final round at Yas Marina in Abu Dhabi.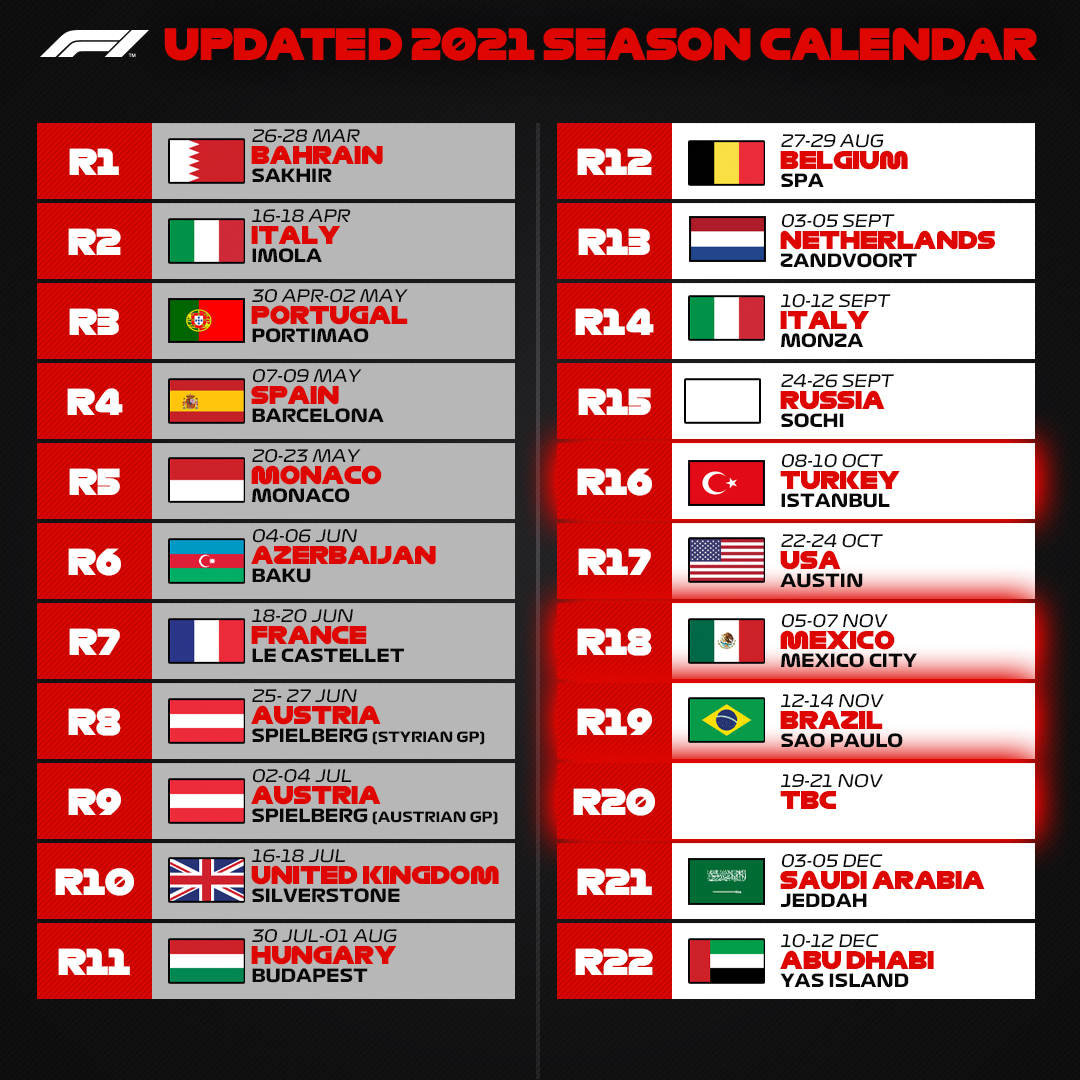 Stefano Domenicali, President and CEO of Formula 1, said: "We are very pleased to announce the updates to the 2021 calendar following extensive discussions with the promoters and national authorities.
"The pandemic continues to present the season with challenges but we have proven we can adapt and we are confident we can deliver a record breaking 22 races this year despite a global pandemic."
"I want to thank the promoters in Brazil, Mexico and Turkey for their patience and flexibility and we will provide the details of the final addition soon.
"This season is proving to be an incredible battle on the track and this is hugely exciting for our fans around the world and we look forward to the intensity continuing in the races ahead."
Gallery: The beautiful wives and girlfriends of F1 drivers
Keep up to date with all the F1 news via Facebook and Twitter