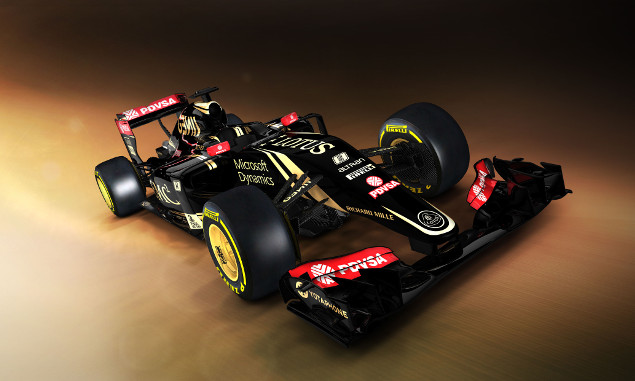 Lotus has released images of its 2015 car – the E23 – which it hopes will return it to "the pinnacle" of F1.
With the first test set to get underway at Jerez on Sunday, Lotus unveiled its new car online, with the E23 featuring a sloped nose after new regulations outlawed the twin-tusk design it opted for in 2014. The car is the first Lotus to be powered by Mercedes, with the team switching from the Renault power unit it used last season.
Lotus F1 Team CEO Matthew Carter says the new car is "a huge step forward" which has left the team optimistic of its chances for 2015.
"The E23 Hybrid represents a new era for Lotus F1 Team, not only in the change to a Mercedes Benz Power Unit, but also it is the fruition of a busy winter behind the scenes," Carter said. "Improvements within our Design, Aero and Simulation departments have all contributed to the development of a car which is a huge step forward.
"As a team we are confident that the new car coupled with additions to the Race team will enable a huge leap forward and we are full of optimism going into the new season. It is time to put the disappointment of last season behind us and benefit from 12 months of hard work; we are ready to return to our rightful place at the pinnacle of the sport."
Click here to see the full gallery of the first Lotus E23 images
Keep up to date with all the F1 news via Facebook and Twitter