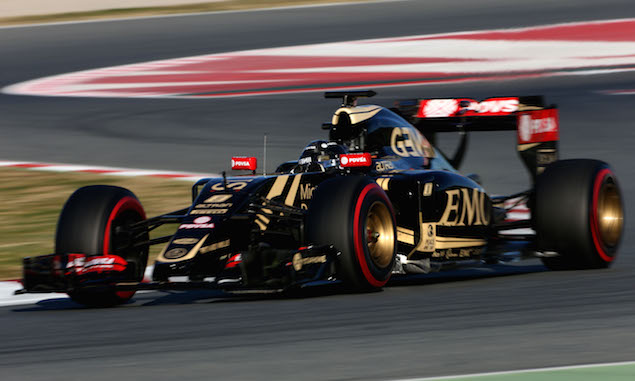 Lotus technical director Nick Chester says the most encouraging aspect of the final day of the second test was the mileage completed rather than the fastest time.
Romain Grosjean was quickest on the final day following a run on supersoft tyres, beating Nico Rosberg's Mercedes by 0.25s. With headline times always difficult to read in to during pre-season testing - highlighted by the fact that Rosberg set his time on medium tyres - Chester says the 111 laps completed on day four was the biggest positive from the test.
"We've enjoyed a solid first test in Barcelona with good reliability and encouraging performance," Chester said. "The biggest positive we have seen so far is the reliability of the E23 which is enabling us to push along with our assessments and evaluations over the course of 361 laps or 1680km.
"It was good to have Romain in the car so we could add his feedback to that we've already received here from Pastor and Jolyon. Today was particularly windy, making it harder to work on car balance assessments, but we conducted a productive race simulation in the afternoon as well as other performance evaluations.
"During this test, we've completed plenty of laps so we have plenty to be working on over the next three days before we're back in action here."
Full times and the final day as it happened