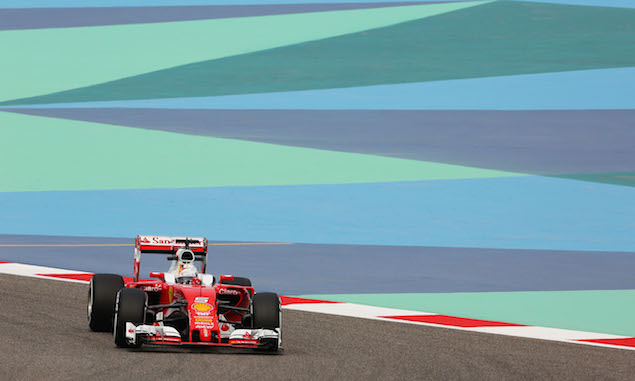 Ferrari hit back to set the fastest time of FP3 and ignite hopes of a qualifying battle at the Bahrain Grand Prix.
Mercedes had been fastest throughout Friday by more than a second over the rest of the field, but supersoft tyre runs towards the end of final practice saw Sebastian Vettel set the pace with a 1:31.683. Vettel was just 0.04s clear of team-mate Kimi Raikkonen, while Nico Rosberg and Lewis Hamilton were more than 0.4s adrift.
Valtteri Bottas was fifth fastest for Williams ahead of the surprise of the session as Romain Grosjean was sixth for Haas and team-mate Esteban Gutierrez eighth.
While the quicker times from Ferrari are encouraging in terms of hoping for a close fight in qualifying, it should be noted that FP3 took place in the afternoon sun with much higher track temperatures than have been seen so far this weekend. Qualifying, on the other hand, will run under floodlights after dark.
Vettel was the busiest driver in the session having missed out on some running in FP2 when he stopped on track, completing 22 laps compared to 13 for Raikkonen. The pair were the only drivers to dip under 1m32s on Saturday, though Rosberg posted a 1:31.001 during FP2 on Friday.
Five teams had both drivers in the top ten - Ferrari, Mercedes, Williams, Haas and Red Bull - while half a second covered 7th to 16th. Both Toro Rosso and Force India opted not to set times on supersoft tyres in the final session, with Pascal Wehrlein also only using the soft tyres.
Stoffel Vandoorne recovered from an oil leak to set the 14th fastest time, impressively lapping just 0.04s slower than team-mate Jenson Button. The session ended with Jolyon Palmer - 20th ahead of the two Manor drivers - limping back to the pits with a left rear puncture.
AS IT HAPPENED: Bahrain Grand Prix FP3
Romain Grosjean's exclusive F1i column - Bahrain
RACE PREVIEW: Bahrain Grand Prix
Keep up to date with all the F1 news via Facebook and Twitter
| Pos | Driver | Team | Time | Laps |
| --- | --- | --- | --- | --- |
| 01 | Sebastian Vettel | Ferrari | 1:31.683 | 22 |
| 02 | Kimi Raikkonen | Ferrari | 1:31.723 | 13 |
| 03 | Nico Rosberg | Mercedes | 1:32.104 | 18 |
| 04 | Lewis Hamilton | Mercedes | 1:32.160 | 14 |
| 05 | Valtteri Bottas | Williams | 1:32.675 | 18 |
| 06 | Romain Grosjean | Haas | 1:33.082 | 14 |
| 07 | Daniil Kvyat | Red Bull | 1:33.113 | 10 |
| 08 | Esteban Gutierrez | Haas | 1:33.337 | 14 |
| 09 | Felipe Massa | Williams | 1:33.363 | 18 |
| 10 | Daniel Ricciardo | Red Bull | 1:33.519 | 20 |
| 11 | Marcus Ericsson | Sauber | 1:33.569 | 16 |
| 12 | Kevin Magnussen | Renault | 1:33.617 | 9 |
| 13 | Jenson Button | McLaren | 1:33.704 | 12 |
| 14 | Stoffel Vandoorne | McLaren | 1:33.744 | 11 |
| 15 | Max Verstappen | Toro Rosso | 1:33.778 | 20 |
| 16 | Carlos Sainz | Toro Rosso | 1:34.003 | 20 |
| 17 | Felipe Nasr | Sauber | 1:34.013 | 15 |
| 18 | Nico Hulkenberg | Force India | 1:34.128 | 16 |
| 19 | Sergio Perez | Force India | 1:34.281 | 15 |
| 20 | Jolyon Palmer | Renault | 1:34.424 | 9 |
| 21 | Rio Haryanto | Manor | 1:35.546 | 15 |
| 22 | Pascal Wehrlein | Manor | 1:35.724 | 16 |