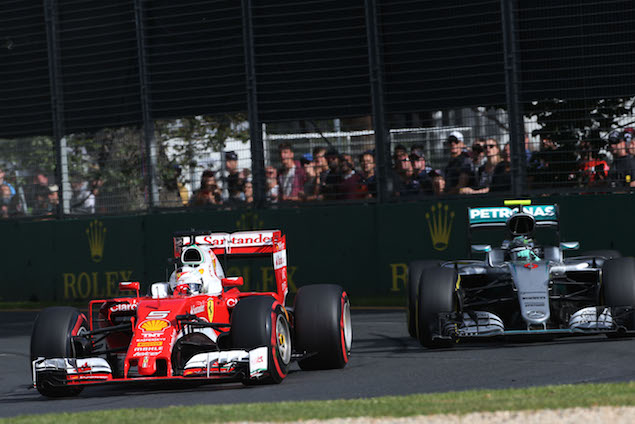 Mercedes motorsport boss Toto Wolff says his team cannot afford any slip-up at this weekend's Chinese Grand Prix with Ferrari lurking in the background.
The reigning Constructors' champions managed to win the first two rounds of the season courtesy of Nico Rosberg, but their nearest rivals seem to have taken a significant step forward in 2016.
Indeed, Sebastian Vettel comfortably led the Melbourne opener until the race was red-flagged, while a poor start from Kimi Raikkonen in Sakhir denied the Finn a shot at genuinely challenging Rosberg.
"After two races, we find ourselves in a strong position," Wolff said. "Our car has proven itself to be competitive in a range of conditions once again, but also reliable even at this early stage, which is a tremendous achievement.
"But there is a long way to go and we have by no means been flawless in every area so far. With Ferrari increasingly breathing down our necks, as we saw in Bahrain, there is zero room for error. Remaining energised is now more important than ever - and we all have plenty to keep us on our toes in that respect."
Despite Ferrari's strong form, the 2016 title fight is currently shaping up as another Mercedes intra-team duel between Rosberg and triple world champion Lewis Hamilton.
Although the German has drawn first blood with his victories in Australia and Bahrain, Wolff says this year's record 21-date calendar mitigate the impact of having an early lead in the standings.
"With just two races down and nineteen to go, I wouldn't say there is momentum on one side or the other. But what is clear – and very exciting for the team and the sport – is that we have two drivers high in confidence who will provide us with plenty of entertainment over the coming months."
Rosberg leads Hamilton by 17 points, while Mercedes already has a 50-point cushion over Ferrari.
PROFILE: Paddy Lowe, the pioneer