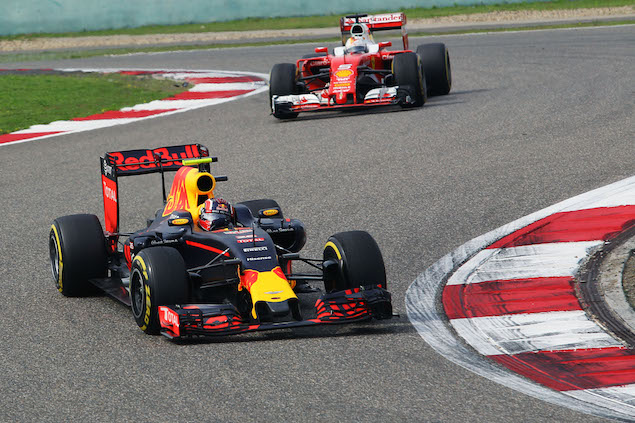 Red Bull team principal Christian Horner says finishing third at the Chinese Grand Prix will boost Daniil Kvyat's confidence after the Russian had experienced a challenging start to his 2016 season.
The 21-year-old put together a strong weekend in Shanghai as he made his first Q3 appearance in three events and muscled his way to a second career podium after Hungary in 2015.
Prior to that, Kvyat's second Red Bull campaign had looked eerily akin to his first year at Milton Keynes. The Russian dropped out of Q1 in both Australia and Bahrain and could not even take the start in Melbourne due to an electrical issue.
Despite his valiant recovery through the field in Sakhir, Kvyat had found himself on the back foot again, especially with Toro Rosso ace Max Verstappen in frame for a Red Bull seat in the near future.
"I think it's fairly similar to last year," Horner said. "[Daniil] struggled a bit at the beginning of the year. Certainly his race in Bahrain was strong and now he's put in another very, very good performance here today and I think that is just great for his confidence.
"He put in a good performance in qualifying on the scrub tyre. At the end of quali he did a super lap – one tenth of a second and he'd have been P4 so I think he's really finding his way with the car and the tyre now and 90% of it is understanding how to extract the most performance out of the tyre on the car.
"I'm sure speaking to all the drivers you know that they're incredibly sensitive and it's finding that sweet spot which I believe he's starting to really understand now."
In 2015, Kvyat managed to bounce back from his slow start in fine style, as he eventually outscored highly-rated team-mate Daniel Ricciardo. With the Australian challenging the likes of Mercedes and Ferrari in China last weekend, Horner is quick to point out that the younger Red Bull pilot is up against a driver currently on top of his game.
"I think [Kvyat] is doing a great job and let's not forget that his team-mate is doing an awesome job at the moment as well. I mean he's really on the crest of a wave and his confidence is sky high. He's driving fantastically."
Chinese Grand Prix - Quotes of the week
F1i's Driver rating - Shanghai
Eric Silbermann has breakfast with photographer Crispin Thruston
Keep up to date with all the F1 news via Facebook and Twitter