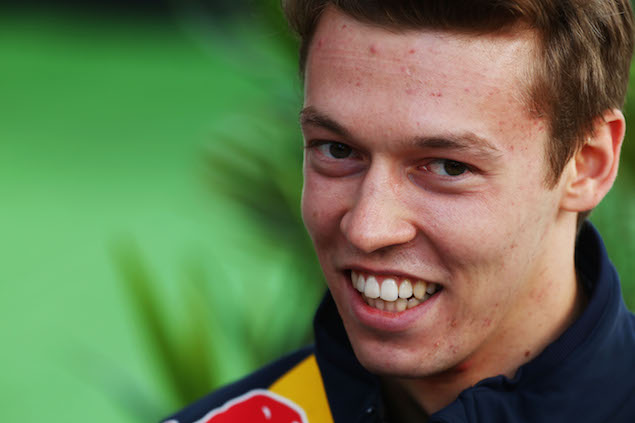 Daniil Kvyat says he needs to do a "perfect job" in order to beat his Red Bull team-mate Daniel Ricciardo.
The Australian is off to strong start in 2016, entering this weekend's Russian Grand Prix with a trio of fourth-place finishes to his name and third place in the Drivers' championship.
However, it was Kvyat who claimed the team's first podium of the season by coming home third in China last time out.
"I've got quite a tough team-mate to beat," the Russian said during Thursday's FIA press conference in Sochi. "Very talented, very strong driver, very good reference then.
"To beat him you have to do an absolutely perfect job in qualifying and in the race. And every time that happens I know it has been a really good day.
"Of course it's only three races this season so far and it hasn't been looking too bad. I think it can only get better as the season goes by. Let's see where the end of the season is going to be."
Kvyat and Ricciardo have been team-mates since last year when the 2013 GP3 Series winner graduated from Toro Rosso to replace the departing Sebastian Vettel at Milton Keynes.
Asked about how he and Ricciardo are getting along, Kvyat replied: "I think it's a normal working relationship, we have known each other for a while, we can share a joke outside the track like everyone, like normal, I guess like everyone.
"But once it comes to the work I think we're both focussed on our work because we're both professionals and we have plenty of things to do over the race weekend.
"What defines Formula One is how fast you drive, how hard you work and then this brings you the result in the end. It's the only thing.
Ricciardo has been a highly touted driver since outshining four-time world champion Vettel and winning three grands prix in 2014. Despite a challenging start to his 2015 campaign, Kvyat managed to bounce back to actually finish ahead of the Australian in the final standings.
Romain Grosjean column: Haas brought back down to earth
Chris Medland's 2016 Russian Grand Prix preview
F1 technical - How does ERS deployment work?
Keep up to date with all the F1 news via Facebook and Twitter