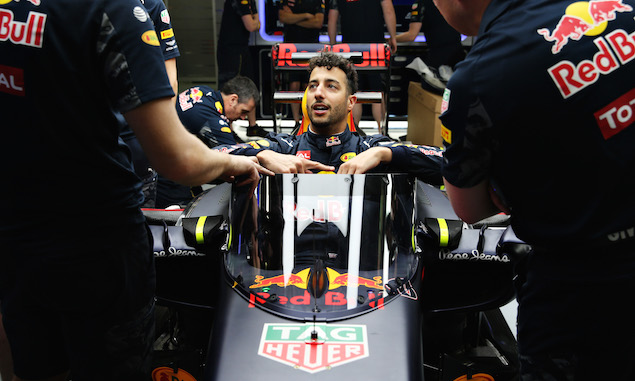 Daniel Ricciardo says the visibility of the Red Bull cockpit protection device is better than the Halo.
Red Bull will run the device - dubbed by the team as the Aeroscreen - during FP1 at the Russian Grand Prix on Friday morning. Ricciardo will be carrying it on his car during his installation laps and having already had his seat fitting with the Aeroscreen on the car he says the supports are strategically placed to not impact on vision.
"First impressions it seems okay," Ricciardo said. "Basically the part of the structure is in line with the mirrors, where the mirror structure is, so it does not really block any more vision than what we do have already with the mirrors, and the front is pretty open.
"You obviously have the structure of the top but that is pretty high and out of your eye line anyway. It is one of those things that you definitely put it on track and check, because things change when you move. It is easy to sit in the garage with it, but so far the impression is that it should be okay visibility wise."
Asked about visibility in wet conditions or if oil gets on the screen, Ricciardo is confident there are sufficient solutions available to such scenarios.
"That is something I asked about. A quick one for now is that during pit stops you will have a tear off system, NASCAR has something similar. Then you can get these coatings on the screens, I guess it works a bit like in the rain with the visor, you have the Rain X or whatever, and the stuff just floats off.
"So oils and things like these get dispersed quite quickly, say have stuff like this, so there are few short-term things right now which will be used tomorrow if needed."
The Aeroscreen will only be on Ricciardo's car for the installation lap, with Red Bull keen for it not to impact on the rest of its plans for FP1.
"I think as well because it is quite a structure it is going to affect the aero and all that, so it is really just to see if it works and then we will get on with our program. We have a few things to try on the car tomorrow, so obviously running that will affect it."
Romain Grosjean column: Haas brought back down to earth
Chris Medland's 2016 Russian Grand Prix preview
F1 technical - How does ERS deployment work?
Keep up to date with all the F1 news via Facebook and Twitter