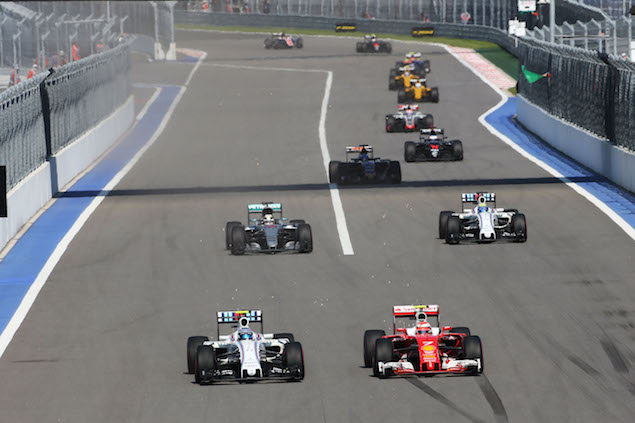 Rob Smedley says Williams can take satisfaction from moving closer to Ferrari's pace at the Russian Grand Prix, though the British team's performance chief insists the main goal was to beat Red Bull.
After a mixed start to its 2016 campaign, Williams brought a series of upgrades to Sochi and ended up securing its best overall result of the season so far with Valtteri Bottas and Felipe Massa finishing fourth and fifth respectively.
Not only did the pair help close the gap to third-placed Red Bull in the Constructors' championship, the Finn also out qualified Ferrari's Kimi Raikkonen and kept his fellow countryman at bay in the first stint of the race.
"We've got to be reasonably pragmatic about it as well and understand where we are coming from compared to Ferrari," Smedley said. "They've had a lot of pace on us in these first three races and I think if you look at the pure pace in this race then we are edging closer towards them again. It was always going to be a really big ask to try and beat them today, we knew that.
"Our principal target was to beat Red Bull which we did fairly comprehensively but I guess what we can take away from it -- the positive is that we've moved closer to the pace of Ferrari and that's a good thing."
Williams drivers have been quick to point out that the Grove-based outfit's return to form found its roots in the specific nature of the Sochi Autodrom. But Smedley is confident the evolutions have also played a key part in Williams' strong showing in Russia.
"As usual it's never one thing it's a bit of a mixture of both. Definitely it suits our car, not as much as it has in the past if you compare it just to Ferrari, so it's not as if we come here and we have a big advantage over them, certainly to Red Bull that is the case.
"Compared to Ferrari that's not entirely the case so the two things that are working for us here are the upgrades that we've got on the car, they are definitely working and that's good and in addition just getting the tyres to work.
"Getting the front tyres to work especially which has been a bit of a problem for some of the other teams and we've managed to do that."
DRIVER RATINGS: Russian Grand Prix
REPORT: Rosberg eases to win after Kvyat takes out Vettel
Breakfast with ... Martin Brundle
Keep up to date with all the F1 news via Facebook and Twitter