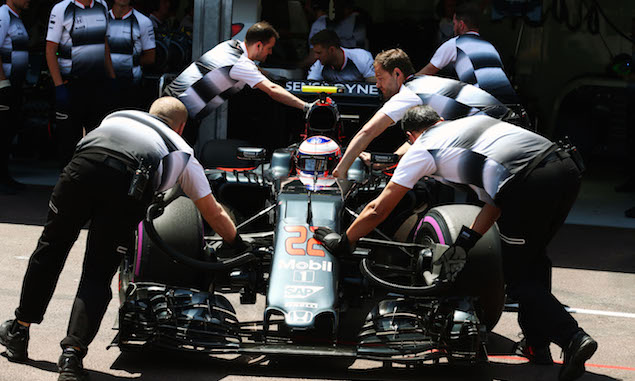 Jenson Button is hoping for a wet Monaco Grand Prix after struggling in qualifying and failing to make it through to start in the top ten.
Fernando Alonso starts from ninth having made it into Q3, with Kimi Raikkonen's gearbox penalty promoting him one position. Button was less competitive on Saturday and will start from 12th, with the 2009 world champion admitting he was unhappy with the car's balance and hoping wet weather can help him get closer to the points.
"Not great," Button said when summing up his qualifying performance. "Q1 felt OK, I felt pretty happy with the car. That was when the car was at its best for me but Q2 I just didn't have very good balance. I locked up in Turn 3 over the hill and I never got the tyre back. It didn't vibrate but I think it just overheated the tyre.
"So, not very happy with where I'm starting but hopefully it will rain and we can have a bit more fun because in the dry it's going to be a procession as always."
Heavy rain fell overnight in Monaco and was continuing to fall three hours before the start of the race.
Button admits his problems in qualifying on a circuit which negates some of the power unit deficit highlight how far off McLaren is from a competitive package such as the Red Bull.
"We feel the weaknesses in balance, but if you try and work with the set-up and you improve the set-up in one area you obviously take away from another. I think we've had the car in a reasonable place for most of the weekend but we're just playing with something that isn't as quick as a Red Bull.
"So I struggled a lot with understeer, especially in low speed corners, I just can't get the tyres into the ground and when you're trying everything to get that working you're hurting other areas of the car.
"I think after this weekend there's a lot of data to go through and talk about where we are with the car and how we improve from here on."
QUALIFYING REPORT: Superb Ricciardo takes pole in Monaco
Technical feature: What will the 2017 F1 cars look like?
Daniil Kvyat exclusive: Time to think about life after Red Bull
Romain Grosjean column: 'I want Jules to always be with us'
Keep up to date with all the F1 news via Facebook and Twitter