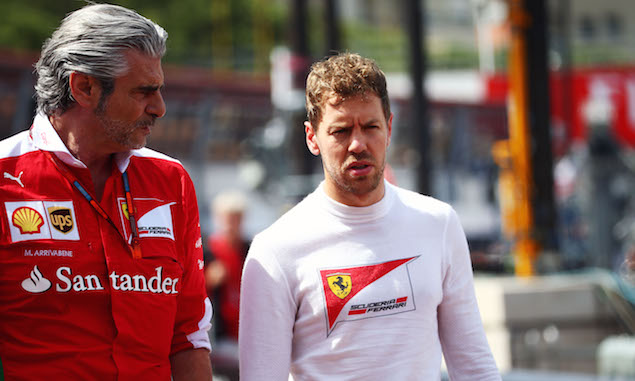 Sebastian Vettel says Ferrari's targets are currently "more ambitious than anybody else's" in F1.
Ferrari won three races last season and wanted to mount a sustained title challenge this season but has failed to take its opportunities in the opening six races. At this stage last year Ferrari had scored 37 points more than its current total, but with a more competitive Red Bull Vettel says the whole field is more closely matched.
"It's not fair to compare to last year," Vettel said. "Last year we were in no man's land, the gap was big to the cars behind and big to the cars behind. I think this year by nature the gaps are a bit smaller. I think we are closer.
"We probably didn't have smooth races like we did in the beginning last year so things didn't yet properly come together, which is also our fault. Easy to explain, if we nail it on Saturday more we will have a better race.
"[In Monaco] we have a better race, we're talking for sure a podium, in Barcelona a win, so I don't think there's anything wrong with the pace of the car, I think it's there. But we've struggled here and there, race, qualifying, to extract it.
"That's our job so in that regard you can say we haven't succeeded but equally you need to respect the fact we are fighting teams that had such a big shift or change in the recent past, in terms of team structure, management, whatsoever. I think we started off with a project that together we want to bring back to the top. Now our targets are more ambitious than anybody else's targets."
And Vettel believes simply improving qualifying will help Ferrari exploit the full potential of its car having been off the pace on Saturday in both Barcelona and Monaco.
"I think we are on the right track. Until this [moment], yes, we could have done better. If I don't blow up the engine in Bahrain we are on the podium, a lot more points and things look a lot more shiny. But they didn't, that's a fact. We look forward and focus on the next race.
"There are lessons we need to learn from Barcelona, lessons that we have to learn from [Monaco] again, in qualifying. It's a no-brainer if you position the car more up front in quali you have an easier Sunday, and that's where we have to work."
Scene at the 2016 Monaco Grand Prix
Monaco Grand Prix - Quotes of the week
Driver ratings - Monaco Grand Prix
Technical feature: What will the 2017 F1 cars look like?
Keep up to date with all the F1 news via Facebook and Twitter