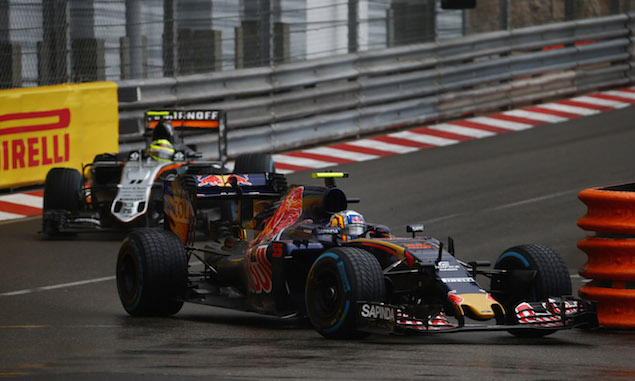 Franz Tost says Toro Rosso should have been "at least" in the top five with Carlos Sainz in the Monaco Grand Prix.
Sainz was running competitively having started from sixth on the grid but lost out twice in the pit stops and ended up eighth. With Sergio Perez finishing third having jumped Sainz in the pit lane during one of the stops, team principal Tost feels eighth was an underwhelming result.
"It's very disappointing to finish Carlos' race only in P8, when we know we have a package which has the performance to be at least within the top five," Tost said. "The main reason for this result was the first pit-stop, during which we lost two seconds and where Perez, Vettel and Hulkenberg passed us.
"Therefore, Carlos ended up behind this train of cars and couldn't use all the potential of the car, but he did a solid race and showed a really good performance."
In the second car Daniil Kvyat retired after a scrappy race, and Tost believes Toro Rosso has a lot to work on ahead of the Canadian Grand Prix.
"On Daniil's car we had a problem with the software during the Safety Car period at the start of the race, where he was stuck in pit-limiter mode, driving at only 60kph. Although we changed the steering wheel, this didn't help and he therefore was a lap down when the race was restarted. He then had a collision with another driver and did not finish the race.
"We all expected much more from this event in Monaco and we have to be more concentrated in order to prevent mistakes in the upcoming races."
Scene at the 2016 Monaco Grand Prix
Monaco Grand Prix - Quotes of the week
Driver ratings - Monaco Grand Prix
Technical feature: What will the 2017 F1 cars look like?
Keep up to date with all the F1 news via Facebook and Twitter