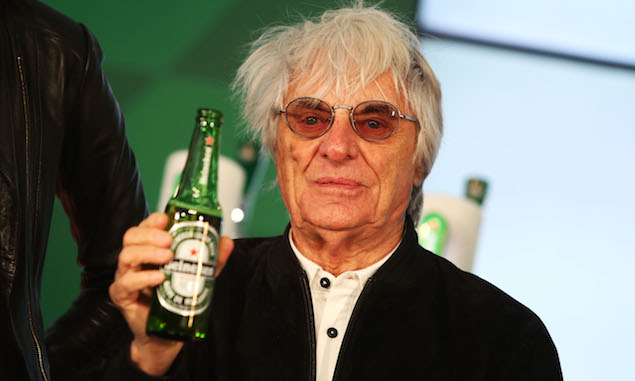 Heineken has announced a global partnership with Formula One Management (FOM) which includes race sponsorship.
The deal officially starts from this year's Italian Grand Prix, with Heineken becoming title partner of the race. As well as becoming Global Beer Partner of F1, Heineken will also be title sponsor of three races in 2017 and have a "significant presence" at six further races next season as part of its new deal which runs until the end of 2020.
Formula One Group CEO Bernie Ecclestone welcomed the new partnership, which he believes will help take F1 to a bigger audience.
"Heineken is a premium international brand with a super reputation for first class marketing," Ecclestone said. "I am very pleased to welcome them to the Formula One family and look forward to the scale and quality of their activation at and away from F1 Events.
"We are both in the innovation and enjoyment business and I hope that this is the start of a long and special relationship. When I have a beer, I have always been happy with a Heineken".
Gianluca Di Tondo, Senior Director Global Heineken Brand, said Heineken chose to partner F1 rather than a specific team because it can add value to the fan experience.
"Formula One is bigger than a race," Di Tondo said. "It is a global event. F1 represents a unique opportunity for Heineken to engage with existing and potential consumers in important growth markets. F1 delivers in three specific areas; strong commercial opportunities; expansion of our responsible drinking platform in new and innovative ways; and enabling skill transfers between F1 and our employees.
"This partnership complements our existing global platforms, enabling us to reach F1's huge spectator numbers and 400 million unique television viewers every year. The hallmark of our long and successful relationships with UEFA Champions League, Rugby World Cup and the James Bond franchise is our passion to excite our consumers. We will be bringing this passion to Formula One."
Romain Grosjean column: Racing on two wheels
Chris Medland's 2016 Canadian Grand Prix preview
FEATURE: Six races in - 2015 v 2016 comparisons
Keep up to date with all the F1 news via Facebook and Twitter