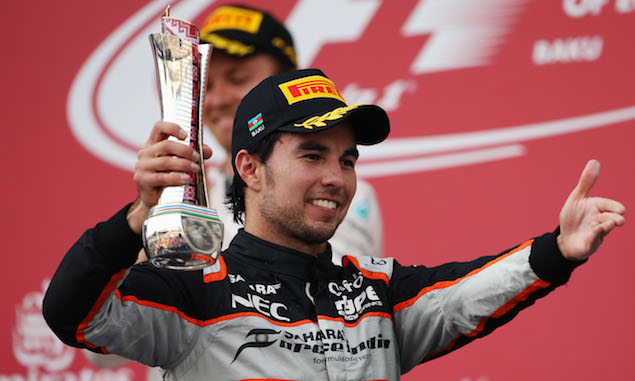 Sergio Perez says Force India is having an "incredible" season after scoring his second podium of 2016 in the Grand Prix of Europe.
Having been quick throughout the weekend, a crash at the end of FP3 saw Perez need a new gearbox which resulted in a five-place grid penalty. An impressive second place in qualifying became seventh on the grid but Perez fought back to finish third, scoring his second podium in three races after also finishing third in Monaco.
"I knew that the podium was possible today, but it was very hard," Perez said. "It was very hard work to get it. We really did an incredible first lap to get around the Williams and the Toro Rosso.
"Then the first stint was really difficult, the first laps, with the graining and just, let's say, not panicking and not stopping when the graining occurred, especially when Kimi and some people behind stopped. We decided to stay longer, until lap 15, and that was one of the keys to my race.
"Obviously pitting early we went onto the one-stop and as soon as I left the pits I was under pressure from Lewis. I had to push straight away and the warm-up with the soft for me was a bit difficult. So, those first laps [after the stop] were really tricky. I had to keep Lewis behind and then I managed to open a gap and was behind Kimi. But at the same time I was looking after the tyres and thinking there was going to be a safety car at some point. It is unbelievable it didn't happen.
"I was looking after my tyres to make sure I made it to the end and I think Kimi was very strong with the pace he had. I knew he had a penalty and I got close to him and at the end I saw the opportunity that it was safe enough to go ahead and take it and finish in P3 [on the road].
"It is well deserved for the team because they have done an amazing job - all my boys to fix the car from yesterday, so very pleased. It is only the eighth race and we have done two podiums so far. It has been incredible."
With no safety car periods in the race despite a number of errors throughout the weekend and some dramatic support races, Perez admitted he thought his charge through the field would be aided by incidents.
"To be honest, I am very surprised given how difficult this track is, but it also speaks for the quality of drivers we have in Formula One. It is not that we were taking risks the other days. I think we were all pushing and every braking point you really feel that it can go wrong, at any point.
"There is no room for mistakes in any place, at the very least it can happen to you and you can do a mistake and lose a couple of seconds. But just surprised and well done to everyone. Nobody did a mistake."
RACE REPORT: Rosberg cruises to victory in inaugural Baku race
Silbermann says ... Ballrooms and having a ball in Baku
Keep up to date with all the F1 news via Facebook and Twitter