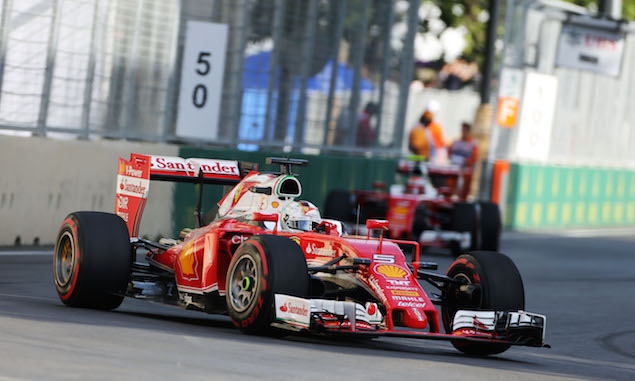 Sebastian Vettel labelled his second place in the Grand Prix of Europe as "a great recovery" from Ferrari after a difficult start to the weekend.
Ferrari looked off the pace during Friday practice, with the team working on its set-up ahead of qualifying. Vettel started from third place and managed to finished second as the Red Bulls faded with high rear tyre wear, and with expectations having been lower after Friday's running Vettel praised Ferrari for improving its pace.
"I didn't really know what to expect, but it's been a great track, a great pleasure, a great welcome for all of us," Vettel said. "I think the circuit is incredible. You need to be 'well-equipped', let's put it this way, around here, so some proper high-speed corners and very, very close.
"Today has obviously been a great job for us. Already by the end of yesterday the car was coming alive. We were struggling a bit on Friday, but to see where we are now I think is a great recovery.
"Second place in a row, two times on the podium now in a row after Canada, which is great, scoring some good points – even though this weekend was a bit different to last week. But still I think the pace is there, the car is good, we are coming along, so all in all a great day and thanks to the team."
At the end of his first stint Vettel was called in to the pits but disagreed with Ferrari and stayed out, but he explained it was a team decision to run longer on the supersoft tyres.
"Yeah, basically I was called in. We wanted to react to Daniel [Ricciardo] who pitted. He was struggling a lot with his tyres; obviously we passed him and then he went into the box. But I had a decent feeling, the pace was quite OK, I thought, and then we decided to stay out so I was asking the team to stay out, the tyres felt OK and I wanted to keep going.
"I was maybe at that point, seeing that Daniel was struggling and feeling that the tyres were not feeling so comfortable in the first, six, ten laps, a bit worried that the second stint would be very very long. In the end I don't think there was much in it.
"Obviously we lost position to Kimi [Raikkonen] who undercut us but obviously we played well as a team together to make sure that when I came out behind him with the fresher tyres to use the pace and secure second place."
RACE REPORT: Rosberg cruises to victory in inaugural Baku race
Silbermann says ... Ballrooms and having a ball in Baku
Keep up to date with all the F1 news via Facebook and Twitter