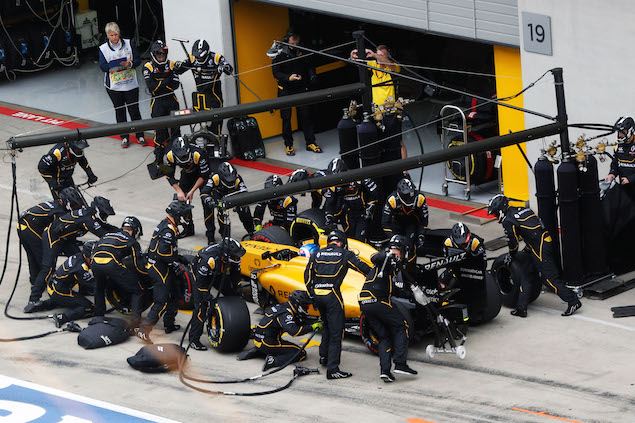 Renault team principal Frédéric Vasseur has revealed that the French constructor has amended its pit stop procedure ahead of this weekend's Hungarian Grand Prix, after a mishap put paid to Jolyon Palmer's hopes in Silverstone.
The Briton had enjoyed a promising start to his home event when he pitted for slicks in a wet-to-dry contest. Palmer left his box with the rear right wheel missing on his R.S.16 and lost around one minute in the slip-up.
"It was human error," Vasseur said of the lost tyre incident. "As a team pit stops are conducted and practiced repeatedly but there is no pit crew that never makes mistakes.
"When you think about it, it's is truly remarkable that it is possible to jack up a car, change four wheels and lower the car to depart in around two seconds.
"We are working all the time to make our stops quicker and we understand what went wrong in that isolated instance. We have changed the process to ensure the same mistake can't happen again."
Palmer's British Grand Prix misery was further compounded when he received a 10-second penalty for unsafe release before he eventually retired.
TECHNICAL: Under the skin of the Mercedes W07
Closing the gap? 2016 constructors points progression
FEATURE: Red Bull Racing: Be My Guest
From the cockpit: Felipe Nasr on the green grass of home
Keep up to date with all the F1 news via Facebook and Twitter