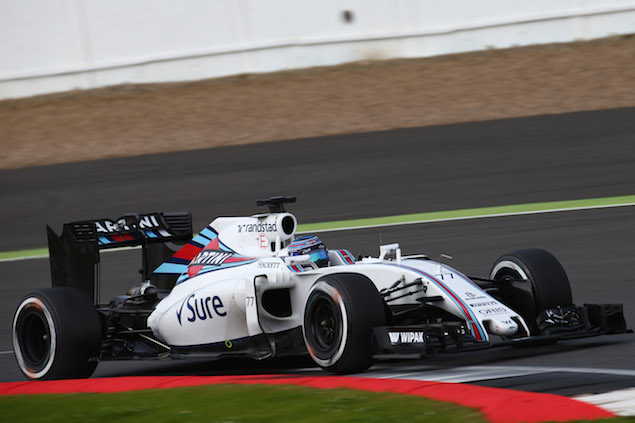 Pat Symonds has revealed that Williams will bring a new floor for its FW38 at this weekend's Hungarian Grand Prix in a bid to halt its recent dip in performance.
After finishing third in the last two Constructors' championships, the Grove outfit has struggled to recapture the same sort of form this year with only one podium in ten races, courtesy of Valtteri Bottas in Canada.
Williams currently occupies fourth place in the standings and has been outscored 65-41 by fifth-placed Force India since the Silverstone-based team introduced its upgraded VJM09 in Barcelona.
Recent Williams challengers have tended to shine on high-speed tracks but Symonds is confident the FW38 can accommodate itself to the tight and twisty nature of the Budapest venue.
"Although the Hungaroring is a lower speed circuit than we have visited recently, it is a still a circuit where our car can perform well, and indeed Valtteri was running fifth last year before a collision dropped him out of the points," he said.
"We are bringing a new floor to this race as part of our continued development, but the real focus will be on the expected high temperatures and the completely resurfaced track which will be very demanding on the tyres.
"We'd expect to see a mixture of two and three stop strategies in the race, with final decisions resting on the exact nature of the new asphalt."
Formula One's official supplier Pirelli has made its red-marked supersoft available in Hungary, which is a compound one step softer than the softest tyre nominated last year.
Williams already sampled an updated front wing at the British Grand Prix, though the newest spec did not deliver the expected results. The team also trialled its double decker rear wing again in the post-race Silverstone test, which Bottas described as "interesting" and "important".
TECHNICAL: Under the skin of the Mercedes W07
Closing the gap? 2016 constructors points progression
FEATURE: Red Bull Racing: Be My Guest
From the cockpit: Felipe Nasr on the green grass of home
Keep up to date with all the F1 news via Facebook and Twitter