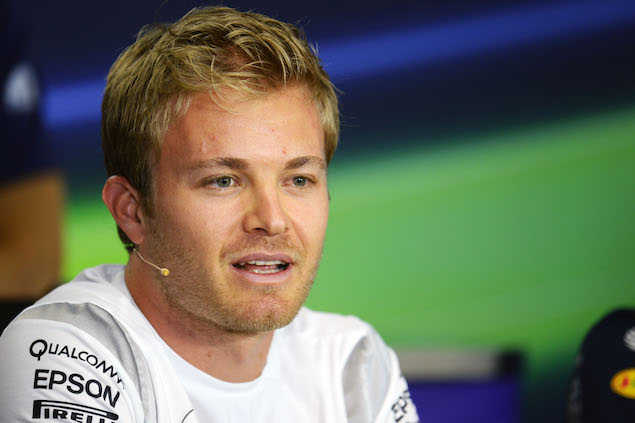 Nico Rosberg says Formula One's radio restrictions are "fine" and makes racing "more challenging", one week after the championship leader was demoted from second to third over unauthorised messages from his Mercedes team at the British Grand Prix.
Rosberg was warned of a gearbox problem on his W07 in the closing stages of the Silverstone race, and then told how to manage the issue.
"The radio communications were reviewed and it was deemed to be beyond what's allowed and that's it," Rosberg explained during Thursday's FIA press conference ahead of the Hungarian Grand Prix. "I got a 10-second penalty and have to accept that.
"Now things have been clarified once more, we need to stick literally to the wording given by [FIA race director] Charlie [Whiting] and that's it. It's clear."
In a bid to put more decision-making power back into the hands of the driver, F1's governing body decided to implement a ban on certain radio messages on the eve of the current campaign.
As the season has unfolded and new scenarii have appeared, the FIA has tweaked the restrictions, with the latest series of clarifications being issued at the Hungaroring.
"It's not something I think about, it's not something I have an opinion on because I just want to make the best of what we have and let the people decide what's best," Rosberg added when asked about his opinion on the current rules.
"Fans have said we are just puppets out there and just doing what the engineers are saying, now we're trying this and I think it's OK. It makes it more challenging for us out on track, which is good. It's fine."
Still, the 31-year-old is quick to refute the idea that drivers had become mere robots following orders.
"No [we were not puppets], but I can understand a little bit the frustration of the fans because there was a lot going on and the engineers were giving us a lot of advice."
Romain Grosjean column: Safety car starts and summer breaks
Chris Medland's 2016 Hungarian Grand Prix preview
Technical snapshot - Silverstone
TECHNICAL: Under the skin of the Mercedes W07
Keep up to date with all the F1 news via Facebook and Twitter