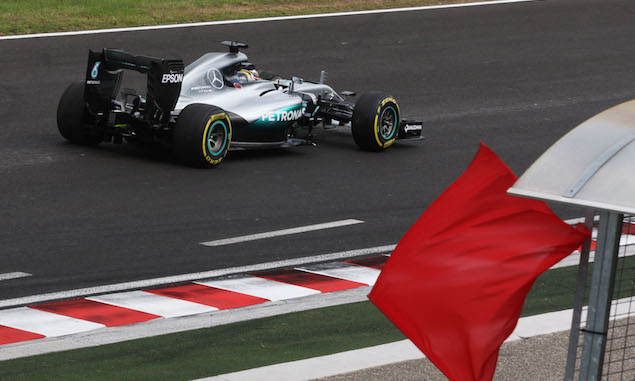 Nico Rosberg set the fastest time of FP2 for the Hungarian Grand Prix after team-mate Lewis Hamilton crashed early in the session.
On his fourth lap of the session, Hamilton lost control on entry to Turn 11 - one of the fastest corners on the circuit - which caused him to slide at high speed across the run-off area. Hamilton hit the tyre barrier on the outside of the track square on, resulting in a reading of 10.4G on impact. Somehow he was able to limp back to the pits, but with Mercedes needing to check the car his session was over.
Rosberg duly set the pace on supersoft tyres after Mercedes had enjoyed a 1.6 second advantage over the rest of the field in FP1, but saw the gap cut by both Red Bull and Ferrari. Rosberg's time of 1:20.435 was just under 0.6s faster than Daniel Ricciardo as Red Bull ran the supersofts for the first time.
Max Verstappen couldn't match Ricciardo's pace after a scruffy first timed lap followed by a big lock-up at Turn 1, allowing Sebastian Vettel to split the Red Bulls and get within a second of Rosberg on his qualifying simulation run.
Hamilton's opening lap time was still good enough for fifth fastest ahead of Kimi Raikkonen, who was 1.6s slower than Rosberg and just 0.2s clear of the McLaren pair of Fernando Alonso and Jenson Button. The two world champions occupied the same positions in the opening session as McLaren looked relatively competitive at the Hungaroring.
Alonso's session was also slightly hampered by a need for a power unit change after FP1, with Honda noticing "an anomaly" on the data. Nico Hulkenberg and Sergio Perez completed the top ten at the end of a messy session which also saw two drivers stop on track.
First, Felipe Nasr was going very slowly at Turn 2 and opted to pull off the circuit, almost driving the wrong way to reach a gap in the barriers. As Nasr did so, Carlos Sainz lost control at the same corner and slid backwards into the run-off area. Sainz did get going again but soon stopped at Turn 1, telling Toro Rosso something was wrong with the rear of his car.
Rio Haryanto became the latest driver to spin at Turn 5 early in the session as he went off while following a Haas closely, while numerous drivers also ran wide at Turn 2. Kevin Magnussen was one such driver, spinning at the second corner having got on the kerb at entry.
Jolyon Palmer suffered more reliability problems after completing little running in FP1, with the Renault driver sitting on the pit wall for a spell during the session after stopping following his opening two laps. Palmer did get out on track late on, bringing his tally up to 12 laps.
AS IT HAPPENED: Hungarian Grand Prix - FP2
Silbermann says ... Birds on the wire
Romain Grosjean column: Safety car starts and summer breaks
Chris Medland's 2016 Hungarian Grand Prix preview
TECHNICAL: Under the skin of the Mercedes W07
Keep up to date with all the F1 news via Facebook and Twitter
| Pos | Driver | Team | Time | Laps |
| --- | --- | --- | --- | --- |
| 01 | Nico Rosberg | Mercedes | 1:20.435 | 45 |
| 02 | Daniel Ricciardo | Red Bull | 1:21.030 | 36 |
| 03 | Sebastian Vettel | Ferrari | 1:21.348 | 31 |
| 04 | Max Verstappen | Red Bull | 1:21.770 | 35 |
| 05 | Lewis Hamilton | Mercedes | 1:21.960 | 4 |
| 06 | Kimi Raikkonen | Ferrari | 1:22.058 | 46 |
| 07 | Fernando Alonso | McLaren | 1:22.328 | 21 |
| 08 | Jenson Button | McLaren | 1:22.387 | 34 |
| 09 | Nico Hulkenberg | Force India | 1:22.449 | 41 |
| 10 | Sergio Perez | Force India | 1:22.653 | 38 |
| 11 | Esteban Gutierrez | Haas | 1:22.673 | 38 |
| 12 | Felipe Massa | Williams | 1:22.681 | 39 |
| 13 | Carlos Sainz | Toro Rosso | 1:22.689 | 24 |
| 14 | Valtteri Bottas | Williams | 1:22.773 | 38 |
| 15 | Romain Grosjean | Haas | 1:22.864 | 28 |
| 16 | Daniil Kvyat | Toro Rosso | 1:22.948 | 43 |
| 17 | Kevin Magnussen | Renault | 1:23.347 | 41 |
| 18 | Marcus Ericsson | Sauber | 1:23.437 | 36 |
| 19 | Jolyon Palmer | Renault | 1:23.528 | 12 |
| 20 | Felipe Nasr | Sauber | 1:23.986 | 31 |
| 21 | Pascal Wehrlein | Manor | 1:23.992 | 22 |
| 22 | Rio Haryanto | Manor | 1:24.265 | 36 |