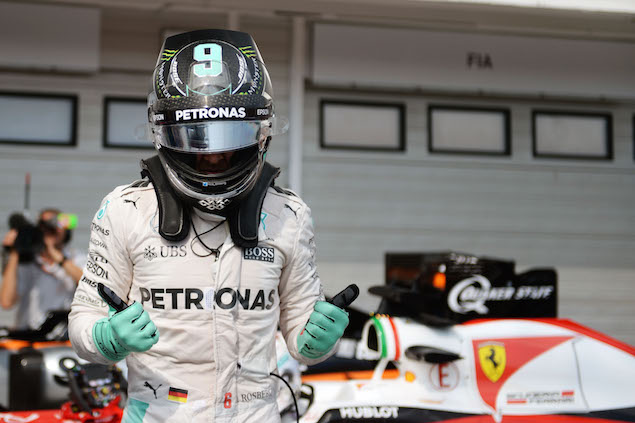 The stewards are investigating Nico Rosberg's pole position lap for the Hungarian Grand Prix, over three hours after the end of qualifying.
Rosberg has been called to the stewards regarding his pole position lap after setting the fastest middle sector despite passing double waved yellow flags at Turn 8. Rosberg said he carried out "a big lift" and was confident he would not be penalised, with the stewards not opening an investigation until 19:16 local time.
The investigation is reacting to the "alleged breach of Appendix H, Article 2.4.5.1 b) of the FIA International Sporting Code, failure to slow for yellow flags at 15:54," the stewards note read.
Rosberg must report to the stewards at 19:45 local time with a team representative.
The yellow flags were waving at the end of Q3 as a result of Fernando Alonso's spin at Turn 9. Rosberg approached Turn 8 and found double waved yellows, but the track went green again as he exited the corner, and he went on to set the fastest middle sector of the session.
The championship leader was second fastest at the time of the incident, with team-mate Lewis Hamilton - on provisional pole - having already lifted off.
The relevant part of Appendix H, Article 2.4.5.1 b) of the FIA International Sporting Code reads:
Double waved [yellow flag]: Reduce your speed significantly, do not overtake, and be prepared to change direction or stop. There is a hazard wholly or partly blocking the track and/or marshals working on or beside the track.
REPORT: Rosberg snatches pole after dramatic qualifying
Silbermann says ... Birds on the wire
Romain Grosjean column: Safety car starts and summer breaks
Chris Medland's 2016 Hungarian Grand Prix preview
Keep up to date with all the F1 news via Facebook and Twitter