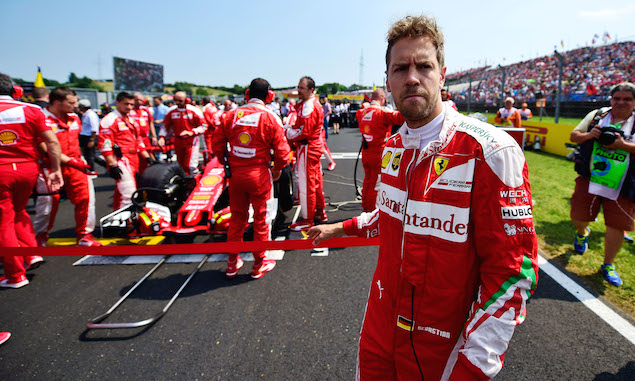 Sebastian Vettel says F1 "didn't set a good example" by not penalising Nico Rosberg for his final lap in qualifying at the Hungarian Grand Prix.
Rosberg took pole position despite encountering double waved yellow flags in the middle sector, even setting the fastest middle sector of the day on that lap. Mercedes team-mate Lewis Hamilton contacted the FIA for clarification after the session, while the stewards eventually investigated Rosberg but felt he had slowed sufficiently.
With Rosberg losing a little over 0.1s in the sector as a result of a lift at Turn 8, Vettel believes failing to take action sets the wrong example to young drivers.
"The worst thing about this is we are an example," Vettel said. "Next week there will be a go karting race somewhere and there will be a double waved yellow somewhere because somebody went off and marshals will go out and help. The way the kids think is that 'I don't need to lift much because in F1 it is okay, that is the pinnacle and that is okay so that is how we can behave'. That is what I don't like about it.
"In the past we didn't have the technology to time the different sectors around the track and only had sector one, two and three so the rule of thumb was you are not allowed to improve in a yellow sector. Double yellow in the rule book says be prepared to stop.
"Arguably if you go 2kph or 4kph slower or brake earlier and you drop half a tenth I don't think you are preparing to stop. It is one of those things that we are trying improve and make it fair to give us drivers a chance to finish our lap even if unfortunate with the yellow flag in qualifying or practice.
"In my opinion it has gotten worse. We have had a lot of discussions and in the past it was clear not to improve under yellow but now we can. We need to debate how much is considered a lift and how much is not.
"One thing is for the people who are trying to rescue and recover the car and get the track green again and the other is the example we are giving. I am not a big fan of penalising every single one. We didn't set a good example."
DRIVER RATINGS: Hungarian Grand Prix
REPORT: Hamilton holds off Rosberg to take championship lead
Silbermann says ... Birds on the wire
Keep up to date with all the F1 news via Facebook and Twitter