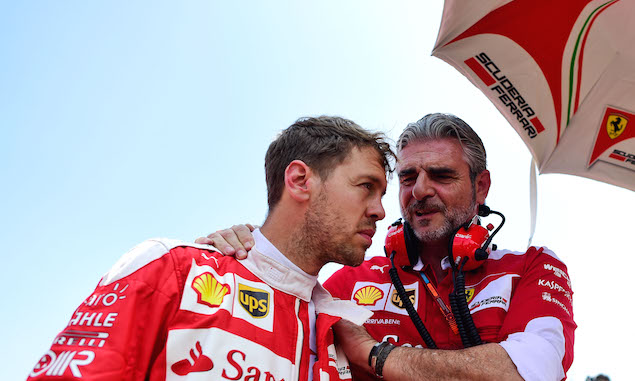 Sebastian Vettel says Ferrari has the right people in charge of the team following recent overhauls and James Allison's departure.
It was announced on Wednesday that Allison would leave Ferrari with immediate effect, with the chief technical officer being replaced by Mattia Binotto. With Sergio Marchionne and Maurizio Arrivabene taking over as president and team principal respectively at the end of 2014, Ferrari has a relatively new management structure in place.
Asked if he is concerned by a lack of experience among the team's hierarchy, Vettel replied: "No, I think we have the right people on board.
"I think obviously, yeah, it's been a lot in the press, especially about our president and what he expects from us and so on…  I think first of all it's good to see, as I've always said, that he's involved. Obviously he's pushing the team very hard, and also in Maranello, he spends a lot of time there.
"I think he knows what he's talking about and generally has been trying to understand what's going on, in the last year in particular. So, I think things are heading in the right direction. Obviously it's a big change now, which doesn't impact on tomorrow's work but obviously for the future. No doubt about it but I think things are heading in the right direction.
"When you say that they didn't have access [to F1], I think it's not entirely true. Obviously I haven't followed that close but in Maurizio's case as well I think he's been in Formula One and involved for a long time, so I think he knows the business very well and I think he's doing a very, very good job.
"That's how we all feel in the team. He's our leader, he's the team principal and we're happy he's with us."
LIVE: German Grand Prix weekend
Exclusive Alex Wurz Q&A: GPDA chairman "surprised" by Halo delay
Chris Medland's 2016 German Grand Prix preview
FEATURE: Halo: splitting opinion in F1
Keep up to date with all the F1 news via Facebook and Twitter