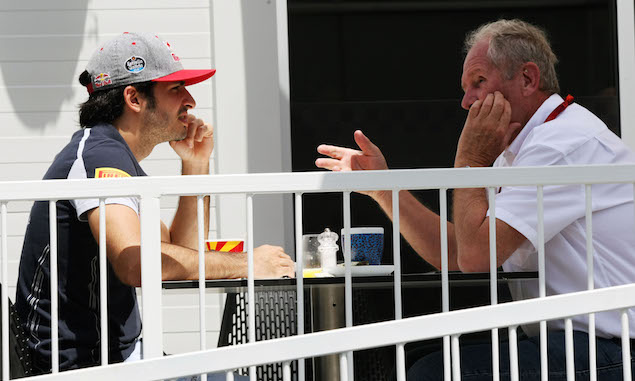 Carlos Sainz says he "can't complain too much" about how ruthless Red Bull is with young drivers having been guided to F1 by its program.
Red Bull brings junior drivers through to F1 via Toro Rosso, with no driver getting more than three seasons before either being promoted to Red Bull or dropped. Sainz has seen former team-mate Max Verstappen promoted to Red Bull after four races this season, with Daniil Kvyat returning to Toro Rosso following some poor performances.
"I think it has its pros and cons," Sainz told F1i when asked if the ruthlessness gives him hope for a future promotion or means he is never comfortable. "But normally I would say it's a pro because it's what has brought me here and it is how the program has worked in the last ten years.
"It's the most successful junior program ever, so I can only see the positive side of it because they bring so many young talents through and it normally has worked. I can't complain too much about their philosophy."
Sainz has excelled at Toro Rosso since the driver change, and while he believes he built up some good momentum he says his confidence did not take a hit when Verstappen was promoted.
"Strong results always help to build up your confidence, for sure, but I was confident because if not then I wouldn't have done the result in Barcelona like I did. I've always been confident but it's true that some consecutive good results help even more."
Red Bull has already activated its option to retain Sainz for the 2017 season, with the Spaniard again set to drive for Toro Rosso next year.
Meet the British drivers chasing GP2 glory and an F1 seat
From Sauber to Ferrari - Exclusive interview with Kimi Raikkonen on F1's evolution
Silbermann says ... No hope for an Olympic Grand Prix
FEATURE: Romain Grosjean answers your questions
Keep up to date with all the F1 news via Facebook and Twitter